This is so unusual that it needs mentioning : a new RER train station has opened in Paris. This station services the RER E line, the shortest line on the Parisian RER network. This brand-new RER station was officially opened on Sunday, 13th December, 2015. Lodgis gives you all the information about the new Rosa Parks station.

Why «Rosa Parks»?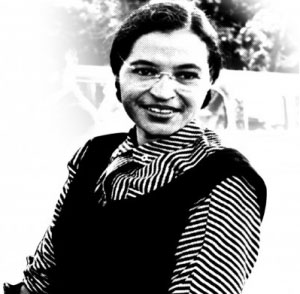 You probably know the story of Rosa Parks. During a period of racial segregation 60 years ago, on December 1st 1955 in Montgomery, Alabama, she refused to give up her seat in the colored section of the bus to a white passenger after the white section was filled.

This gesture became a symbol and, with the help of other protest movements, helped to put an end to segregation in America.
By naming this RER railway station « Rosa Parks », SNCF pays tribute to Rosa Parks and what she represents: « Transport for all ».

A new train station in Paris: a rare occurrence
The last time an RER station opened in Paris was back in… 2001! 14 years later, following the opening of the « Bibliothèque François Mitterrand » station (RER C), the Rosa Parks RER station has arrived.

Building this RER station was a colossal task, and this was no exception : it took 5 years of intense work before the Rosa Parks RER station was opened.

The Rosa Parks train station on the RER E line: why?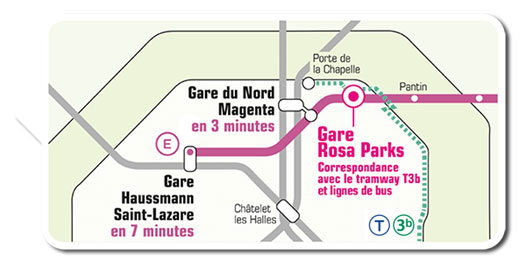 This new train station, situated near the Porte d'Aubervilliers, connects the RER E line to the Tramway T3b, a recently-opened tramway line (December 15th, 2012). It also links the RER to 3 BUS lines (54, 60, 239), Vélib' stations, and the planned T8 Tramway line.

The new Rosa Parks station means that you can reach the famous Saint-Lazare train station in just 7 minutes. Not all of the trains on the RER line will stop at the Rosa Parks station, which expects to receive at least 85,000 passengers. This recent opening also comes with other good news: 5 additional trains will be running on the RER Line.

The Rosa Parks station in numbers
This new train station aiming at simplifying Parisians' everyday life represents:

400 trains per day
a 7 minutes commute instead of 30 minutes to go to Saint-Lazare station
a 3 minutes commute to reach Magenta/Gare du Nord
85 000 users on a daily basis
A 4.50am to 1.10am service everyday


Are you wondering what other changes Paris is preparing for you? In this case, we recommend that you read our post on the Tour Triangle in Paris!