What I find fascinating about Paris is that you come across people from all over the world. I'm curious, I like good food and discovering new flavors.

If I were to give some advice, it would be: forget about fast-food restaurants, McDonalds, etc. or any other kind of standardized food and just follow me. I promise you won't regret it!
Where can you eat good food in Paris?
Want to taste authentic Indian food ? You'll find the perfect restaurant near the Passage Brady.

You'd better know you'll be mobbed by what we commonly call "attrappe-clients" (people looking for customers). But this is all part of the traditional Indian culture:

New Calcutta, passage Brady, 75010 Paris: Prices are very affordable. Everything smells amazing. The cheese nan and garlic bread are addictive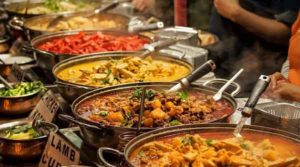 One Sunday afternoon, while I was foraging for food in the city, I stumbled across the only restaurant that was open in the area.

Monde du Brésil, 52 avenue Edouard Vaillant, 92100 Boulogne-Billancourt
Just amazing! Brunch, All You Can Eat buffets, music, Portuguese…

Ethiopian food ?

Le Negus Restaurant Ethiopien, 52 rue de Montreuil, 75011 Paris
This is where I took my friends when they came to visit me in Paris! There's no way you should ever miss this! I swear!
I love the way Ethiopians eat! Share a meal with friends and enjoy the dishes with traditional bread.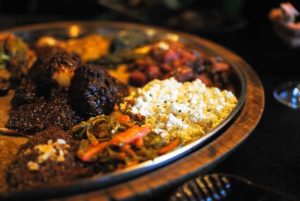 Japanese food ?

There are plenty of Japanese restaurants on Rue Sainte Anne :

YOU, 11 rue Sainte Anne, 75001 Paris. I've tasted almost all of the cooked dishes (I don't like raw food: sushi, sashimi, tartar).

Chez Miki, 5 Rue de Louvois, 75002 Paris: You can have a good breakfast there.
I also found a Taiwanese restaurant at lunch break on Rue Sainte Anne: 37m², 64 rue Sainte Anne, 75002 Paris.

Tibetan food ?

Tashi Tagyé, 24 rue Richer, 75009 Paris. Try the tasting menu to share with friends. So you'll have to convince them to have dinner with you. Good luck!

Chinese food ?

Forget about the bad food they serve in shabby Chinese buffets/restaurants. No Cantonese fried rice, spring rolls at Le Pont de Sichuan, 86 rue de Richelieu, 75002 Paris. They offer high quality dishes such as: Squid with zucchini, spicy beef/lamb stew, soups…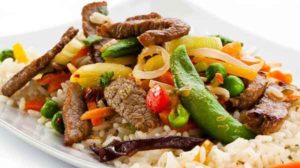 So where can you find French Pastry in Paris?
French food/gastronomy? Please, we're in France!

Visit any bakery, even the one located just at the base of your building !

Try a traditional French 'baguette' fresh out of the oven, French-style country bread / French Sourdough called 'Pain de Campagne', walnuts or cereals wedges… And also sandwiches, savory pies, viennoiseries, tarts, cakes….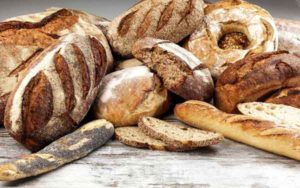 La fourmi Ailée, 8 rue de Fouarre, 75005 Paris: fresh and delicious

L'été en pente douce, 23 Rue Muller, 75018 Paris: just at the foot of Montmartre

I love walking along the Rue Mouffetard, where you'll find lots of restaurants serving traditional French food!
Don' t be shy! Ask the waiters to taste something. They will be happy to help you!