Going to the market is great place to find good quality produce at a reasonable price. It's part of the French culture and is popular with Parisians and tourists alike. There are so many different types of markets in Paris that it can be difficult to know where to go. Luckily Lodgis is here to help you with our selection of the best food markets in Paris…

Marché des Enfants Rouges
Located in the Haut Marais, this is the oldest indoor market in Paris. The site used to be an orphanage and so this is where it gets its name from. It's a popular spot for both locals and tourists. Here you can find food from all over the world, with market stalls selling everything from Italian to Lebanese inspired food. There is a wide selection of fresh produce, as well as fishmonger stalls, flower stalls, organic food and takeaway meals.

Opening times: Tuesday – Saturday 8.30am-1pm, 4pm-7.30pm; Sunday 8.30am-5pm
Address: 39 rue de Bretagne 75003
Metro: Filles du Calvaire or Saint-Sébastien Froissart

Marché Bastille
Marché Bastille is one of the largest open air markets in Paris. There are over 100 stalls selling fruit and veg, meats, cheeses, fish etc. The market is known for its high quality produce. It's open twice a week and it welcomes local craftsmen and artists on Saturdays.

Opening times: Thursday 7am-2.30pm; Sunday 7am-3pm
Address: boulevard Richard Lenoir 75011
Metro: Bastille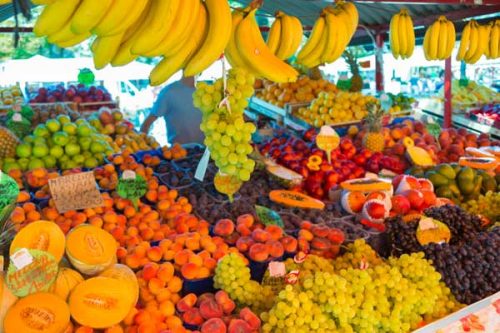 Marché d'Aligre
The Marché d'Aligre is an outdoor market which joins on to the Marché Beauvau which is an indoor market. Here you can buy fresh produce and takeaway food as well as vintage clothing and bric-a-brac. All the produce is high quality and with such a great selection, this is a great place for foodies! Saturday morning is the best time to visit.

Opening times: Tuesday-Saturday 8am-5pm; Sunday 8am-1pm
Address: Place d'Aligre 75012
Metro: Ledru-Rollin

Marché bio des Batignolles
The Batignolles organic market was the first organic market in Paris. It may not be the biggest, but what it lacks in size it makes up in quality and is very popular with the locals. Although fruit and veg is the main focus, you can also find wine and meat and a whole range of other products such as organic soaps, make up and essential oils. Everything is locally sourced and you can even meet the producers and farmers.

Opening hours: Saturday 9am-3pm
Address: 34 boulevard des Batignolles 75008
Metro: Rome ou Place de Clichy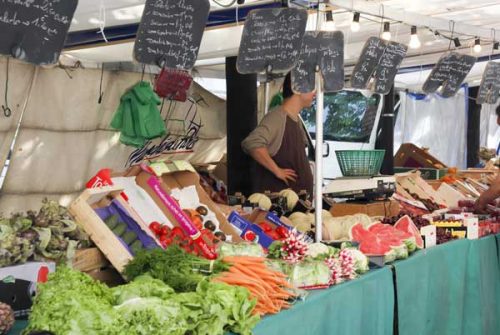 Rue Mouffetard
Rue Mouffetard is a market street located in the Latin Quarter. It's very picturesque and has a lovely atmosphere, making it a popular spot for tourists. You can find a lot of organic and fair trade produce, as well as cheeses, meats, pastries and more.

Opening hours: Tue-Sun 8am-1pm
Address: Rue Mouffetard 75005
Metro: Place Monge or Censier – Daubenton

Marché Raspail
Located in the trendy 6th arrondissement, the Marché Raspail is a large outdoor market held twice weekly. On Sundays, an organic market can be found in the same place. As everything sold here is organic, you can expect to pay a lot more for the produce. You can find fruit and veg, meats, cheeses and more. There's even an English bakery at the weekend, which is always very popular!

Opening times: Tuesday and Friday 8-1:30; Sunday 8:00-2:00
Address: Boulevard Raspail 75006
Metro: Rennes or Sevres-Babylone


And once you've discovered the best food markets, why not try going to a flea market for more great bargains?