The 14th arrondissement, more commonly known as Montparnasse, is located in South Paris on the left bank of the river Seine, and it has a rich history. This area became famous at the start of the 20th century after World War One when the artistic and intellectual centre of Paris moved from Montmartre to Montparnasse, with people like Picasso, F. Scott Fitzgerald, Ernest Hemingway, Jean-Paul Sartre, as well as many others, frequenting the area regularly. Nowadays, the district is characterised by the Montparnasse Tower and the Paris Catacombs, but the area has a lot more to offer than just these famous places.

Eat
La Rotonde
La Rotonde is one of the several artist and intellectual cafes that line the Boulevard Montparnasse which Paris became famous for during the roaring 20s. La Rotonde is a brasserie and restaurant that has seen many influential artists and writers pass through its doors, like Picasso, Diego Rivera and Amedeo Modigliani just to name a few. The owner would apparently accept small pieces of art as payment from them. If you're keen to dine in a place that has held such prestigious people, be sure to check this restaurant out.

Located: 105 Boulevard du Montparnasse, 75006 Paris
Metro: Vavin, line 4
Opening time: 7:15a.m-1:00a.m every day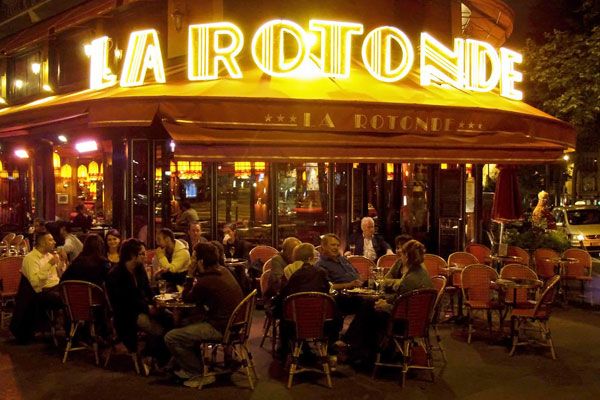 Rue du Montparnasse
This isn't a specific recommendation of one place in particular, but this road is home to more than 15 creperies and is famous in Paris for offering some of the best Breton crepes. If you're looking for some quintessentially French food then this is the right place for you. Be sure to grab a crepe from here, you can't go wrong!

Metro: Montparnasse Bienvenüe, lines 4, 6, 12 and 13

Le Petit Baigneur
Le Petit Baigneur is a traditional French restaurant with tables packed into a small room and covered with gingham tablecloths and an eclectic mix of posters draping the walls. This restaurant offers you a classic French experience as well as a friendly, familial atmosphere. If you want to get a guaranteed seat you have to go there early or make a reservation as it fills up quickly.

Located: 10 Rue de la Sablière, 75014 Paris
Metro: Denfert Rochereau, lines 4 and 6
Opening time: 12:00p.m-2:00p.m Monday to Friday then 7:00p.m-10:15p.m every day except Sunday

Les Fauves
Despite being situated right next to Gare Montparnasse, this restaurant has more to offer than most restaurants found next to a station. This neo-bistro is decorated nicely with exposed wood and lots of plants which help add to the chilled vibe of this restaurant. All the fresh products are bio and locally sourced, and the menu offers a new take on French food.

Located: 33 Boulevard Edgar Quinet, 75014 Paris
Metro: Montparnasse Bienvenüe, lines 4, 6, 12 and 13
Opening time: 7a.m-12a.m every day except Sunday 8:00a.m-12a.m


Click here to see our selection of apartments located in the 14th arrondissement.

Drink
Hexagone Café
For lovers of good coffee, look no further than Hexagone café. This cafe roasts its own coffee beans, which is a rarity in Parisian cafes. It also sells its beans so you can attempt to recreate their coffees at home. It is found in a family neighborhood, so it is a nice, quiet place to relax and enjoy a good coffee.

Located: 121 Rue du Château, 75014 Paris
Metro: Pernety, line 13
Opening time: 8:30a.m-5:30p.m Thursday and Friday

La cave des papilles
If you're a fan of nice wine, then this place is ideal for you. La cave des papilles offers a huge variety of wines from all over the world that the experts in the shop can talk you through, so you're bound to discover something new. Also, wine by the glass is very affordable here. The only problem with this place is that seating is limited!

Located: 35 Rue Daguerre, 75014 Paris
Metro: Denfert Rochereau, lines 4 and 6
Opening time: Monday: 3:30p.m-8:30p.m, Tuesday to Friday: 10:00a.m-1:30p.m and 3:30p.m-8:30p.m, Saturday: 10:00a.m-8:30p.m, Sunday: 10:00a.m-1:30p.m

Chez Jean Claude
With a road named 'Rue Vandamme', it seems logical to have something called Jean Claude on it. This bar cleverly references the Belgian actor with cocktails called 'Le 1+1=11' and 'Le Double High kick' which relate to things he's said and done. The bar itself has spacious rooms, and is decorated nicely with wooden furniture and a hidden terrace out the back, so head down to Chez Jean Claude and enjoy a few drinks.

Located: 9 Rue Vandamme, 75014 Paris
Metro: Gaîté, line 13
Opening time: Sunday 9:00a.m-5p.m

Visit
Montparnasse Tower
The most iconic feature of the 14th arrondissement is the Montparnassse Tower. This skyscraper extends to 56 floors and is the only one in Paris proper. It was also the tallest skyscraper in France until 2011. Although it's not free, if you get the chance to go to the 56th floor you will be met by one of the best views there is of Paris and of the Eiffel Tower.

Located: 33 Avenue du Maine, 75015 Paris
Metro: Montparnasse Bienvenüe, lines 4, 6, 12 and 13
Opening time: 9:30a.m-10:30p.m every day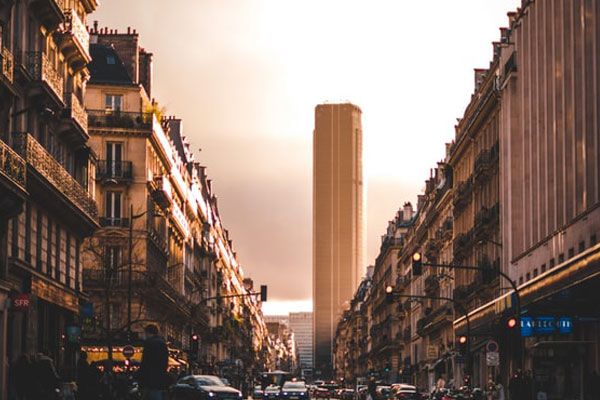 Montparnasse Cemetery
Although you might think a visit to a cemetery is a bit morbid, it is actually quite a calming experience. The Montparnasse cemetery offers a nice, open space for an afternoon stroll in summer, and while you're there you will have the chance to see the graves of famous people, like Jean-Paul Sartre and Simone de Beauvoir.

Located: 3 Boulevard Edgar Quinet, 75014 Paris
Metro: Raspail, lines 4 and 6
Opening time: 8:00a.m-6:00p.m every day

Paris Catacombs
As cemeteries filled up in central Paris in the 19th century, something had to be done. The bones that were in them got moved to abandoned mines beneath the 14th arrondissement. There are an estimated 6 million Parisians' bones that reside here. If you like something that could freak you out, book your tickets early for this attraction before it sells out.

Located: 1 Avenue du Colonel Henri Rol-Tanguy, 75014 Paris
Metro: Denfert Rochereau, lines 4 and 6
Opening time: 10:00a.m-8:30p.m every day except Monday

Parc Montsouris
This 37 acre park makes you forget that you are in a big city. This park has statues, a pond with geese and also a botanical garden. So, this park represents a great place to visit in order to get away from city life and relax for a few hours. This beautiful park is open at all times so there's no reason not to check it out for a bit.

Located: 2 Rue Gazan, 75014 Paris
Metro: Porte d'Orléans, line 4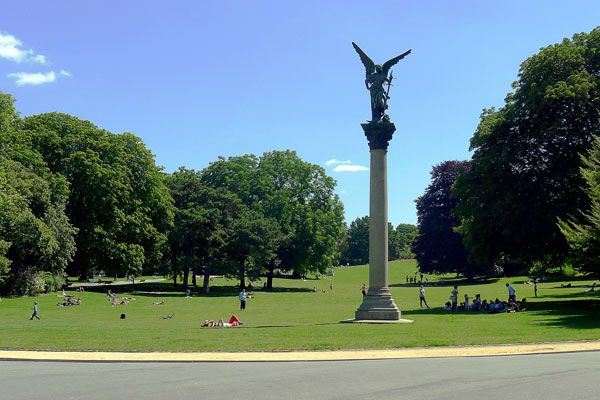 These are some of the best things to do in the 14th arrondissement. As one of the biggest arrondissements in the Île-de-France, the 14th is a district that has a lot more to offer, like its shopping streets and markets. So why not check out the area during your time in Paris. Next, why not head North to the 6th arrondissement, situated on the left bank of the Seine, where you'll find the beautiful 'Jardin du Luxembourg' and 'Saint Sulpice' which is the second largest church in the city.


Are you looking for an apartment in Paris?
Lodgis offers a fabulous selection of furnished apartments for rent. We offer over 7,500 properties, from studio to family apartments with period features, spacious dining and living areas, terraces, elevator access…and just about anything!