The 18th arrondissement, found in the north of Paris, is situated on the right bank of the river Seine and represents a popular, vibrant and exciting part of Paris. Known for Montmartre, Pigalle and La Goutte d'Or, it offers some great views of the Parisian skyline due to it being home to the highest parts of the French capital. This arrondissement has a village-like atmosphere, yet is home to some of the city's most iconic Parisian monuments. Here are some of the best things to do with you time in the 18th arrondissement.

Eat
La Mascotte
La Mascotte is one of the oldest restaurants in the 18th arrondissement. This iconic address opened its doors in 1889 and it remains a great place to sample some traditional French food. The restaurant is well-known for its seafood platters, which include some extremely fresh oysters and mussels. The décor of this restaurant is traditional and formal, and the atmosphere and friendly staff make it a great place to eat for both lunch and dinner. The bar also offers a great range of wines, a lot of which aren't widely circulated yet.

Located: 52 Rue des Abbesses, 75018 Paris
Metro: Abbesses (line 12)
Opening times: 7am-12am
Le Refuge des Fondus
If you are a fan of fondue, then this place is certainly for you! This restaurant has a fun environment. As there are only two large tables, sometimes you will have to climb over them and other customers to get in and out of your seat. The choices are limited to Savoyard or Burgundian fondue, then you have all the additions that go with that like pieces of steak, more cheese and many other options. They also serve wine out of baby bottles. This is a great restaurant to visit for an atypical dining experience.

Located: 17 Rue des Trois Frères, 75018 Paris
Metro: Abbesses (line 12)
Opening times: 7pm-12am (1am Friday and Saturday)
Le Basilic
This traditional French restaurant is tucked away in the Abbesses area of Montmartre. It is covered in vines that date all the way back to 1903, which help give it a charming and cosy feel, along with the exposed beams on the inside. The façade of this restaurant gives real character to the area it is in. The food is very typically French with classics like steak frites, duck, salmon and chocolate mousse. The dark wood décor on the inside gives it a rather chic and romantic atmosphere.

Located: 33 Rue Lepic, 75018 Paris
Metro: Blanche (line 2)
Opening times: 11:45am-12:45am (closed Saturday)

Click here to see our selection of apartments located in Montmartre

Drink
Café Lomi
Café Lomi was originally a roasting atelier before it expanded into the coffee bar it is now. Before, it used to supply many cafés in Paris with its signature roasts. It doesn't seem like much from the outside, but the large warehouse interior is trendy and makes it an original setting. It offers some of the best coffee you will find in the city, serving a variety of single-origin beans from either Central America or Africa, as well as house blends. If you want something different, try the 'café fromage', an espresso accompanied with blue cheese.

Located: 3 ter Rue Marcadet, 75018 Paris
Metro: Marx Dormoy (line 12)
Opening times: 8am-6pm (10am-7pm Saturday and Sunday)
Marlusse et Lapin
Marlusse et Lapin is certainly one of the most atypical bars you will find on the Montmartre hill. The strange decoration of 'grandma's room' will transport you to another century with the flowery wallpaper, black-and-white photos and a sewing machine that doubles as a table for drinks. They offer a good selection of drinks to enjoy with cheap beers, wine, cocktails and, if you're feeling up to it, absinthe. This bar has a homely and festive atmosphere, perfect for while enjoying a drink.

Located: 14 Rue Germain Pilon, 75018 Paris
Metro: Pigalle (line 2 and 12)
Opening times: 4pm-2am

Click here to see our selection of apartments located in La Chapelle

Visit
Basilique du Sacré-Coeur de Montmartre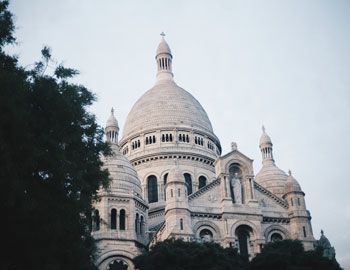 This Roman Catholic basilica sits at the top of the hill in Montmartre at the highest part of the city. It is one of the most iconic and recognisable monuments in Paris, and it is the second most visited monument in Paris. It's visible from many parts of the city, but up close you can appreciate the sheer size of it and the intricate Romano-Byzantine style architecture. The views from the steps in front of this famous basilica are beautiful, but if you are feeling up to climbing the steps to the top of the central dome, then you will experience a spectacular view of the Parisian skyline, including monuments like the Eiffel Tower.

Located: 35 Rue du Chevalier de la Barre, 75018 Paris
Metro: Abbesses (line 12), Château Rouge (line 4) or Anvers (line 2)
Opening times: 6am-10:30pm
Moulin Rouge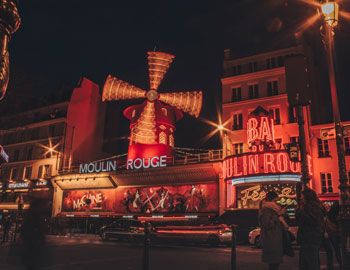 Moulin Rouge, located on the lively street Boulevard de Clichy, is home to the most famous cabaret show in the world. Since opening in 1889, it has enamoured people from all around the world and has had many famous performers over the years, such as Edith Piaf, Frank Sinatra and Elton John. The décor still contains much of the romance of fin de siècle France. It is beautifully decorated in belle époque style and red velvet, and it also has typical burlesque frescoes. A group of 60 artists from all around the world perform twice an evening in shows with four breathtaking acts, including the cancan. The iconic red windmill stands out of the Pigalle skyline as it has done for over 100 years now and it lights up the neighborhood.

Located: 82 Boulevard de Clichy, 75018 Paris
Metro: Blanche (line 2)
Opening times: 9am-12am
Place du Tertre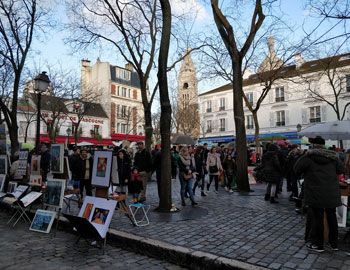 The Place du Tertre is an area found just behind the Sacré-Coeur. These cobbled and tree-lined streets are well-renowned for the multiple painters and artists found there. You will see a variety of paintings here ranging from caricatures to paintings of parts of Paris. This quaint square is popular among the locals and tourists alike due to the nice ambiance found here at the heart of Montmartre. You can enjoy some traditional French food in one of the local restaurants, then you can get your portrait painted after. It's a great place to go for a walk to experience the vibrant atmosphere of the district.

Located: Place du Tertre, 75018 Paris
Metro: Abbesses (line 12)

Click here to see our selection of apartments located near Porte de Cligancourt


To continue your visit, why not head East into the 19th arrondissement where you will find some beautiful parks, like La Villette and Parc des Buttes-Chaumont… Or head North slightly out of Paris to Porte de Cligancourt where you will find the Marché aux Puces de Saint-Ouen which is considered to be the largest antiques market in the world, so take your time to explore this vast market. Whatever you choose to do, we hope you enjoyed our guide to the restaurants, bars and sites to visit in the 18th arrondissement in the Ile-de-France.


Are you looking for an apartment in Paris?
Lodgis offers a fabulous selection of furnished apartments for rent. We offer over 7,500 properties, from studio to family apartments with period features, spacious dining and living areas, terraces, elevator access…and just about anything!