The 3rd arrondissement, known mainly as the 'Haut Marais' and Temple, is one of the central arrondissements in Paris and is situated on the right bank of the river Seine. Despite being the second smallest arrondissement in size in the city, there are plenty of things to discover here in the more peaceful part of the Le Marais district.

Eat
Breizh Café
If you want to tick crepes off your list of things to do in Paris, then look no further than Breizh Café. It is one of the best creperies, not just in the area, but in the whole of Paris and they sell authentic Breton crepes, known as 'galettes', which are savoury crepes made with buckwheat flour. They offer the standard 'complète' of ham, cheese and egg, as well as daily and seasonal specials with toppings like scallops and duck breast. They also offer oysters, langoustines and artisanal ciders, so you can try all kinds of typically French foods. There is something for everyone to enjoy.

Located: 109 Rue Vieille du Temple, 75003 Paris
Metro: Filles du Calvaire (line 8)
Opening time: 10am-11pm every day
Le Marché des Enfants Rouges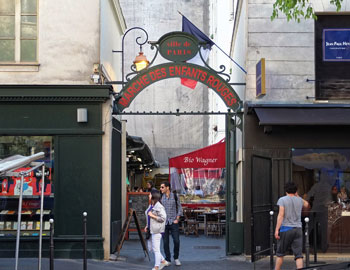 Le Marché des Enfants Rouges is Paris' oldest covered market which opened in the 17th century and offers traditional fruit, vegetable and flower stalls, as well as food stands with a huge variety ranging from Mediterranean to North African to East Asian. Some of the best food stands are Le Traiteur Marocain which serves quintessential Moroccan cuisine with multiple couscous dishes on the menu and a great selection of desserts. Also, Chez Taeko is an authentic Japanese food stand in a French market setting that serves cod croquettes, soba noodles, bento boxes, etc. If you want to try some new cuisine, visit this famous market.

Located: 39 Rue de Bretagne, 75003 Paris
Metro: Filles du Calvaire (line 8)
Opening time: Monday-Wednesday: closed, Thursday-Saturday: 9am-11pm, Sunday: 9am-3:30pm
Raw
The clue is in the name as to what this place is about. They serve tapas style dishes ideal for sharing and they use very high quality ingredients. The restaurant is all about fresh cuisine with vegetables, meat and fish that are rarely cooked. The dishes are beautifully presented and delicately seasoned with only the best ingredients. You will experience a new and interesting culinary experience where you will try combinations that you would never have thought to put together, but that work very well.

Located: 57 Rue de Turenne, 75003 Paris
Metro: Chemin Vert (line 8)
Opening time: lunch: 12pm-3pm every day, dinner: 7:30pm-10:30pm every day except Sunday

Click here to see our selection of apartments located in the 3rd arrondissement.

Drink
L'Art Brut
L'Art Brut is a small tavern situated on a back street between Centre Pompidou and Chatelet-Les Halles. It has an extremely convivial and lively atmosphere especially during happy hour when the prices for drinks are insanely cheap for the area it is in. There's a great selection of drinks with imported Balkan spirits, Belgian beers and independent French wines. They serve charcuterie and cheese boards that are equally cheap and delicious. This is a great place to go to enjoy a cheap drink and a bite to eat.

Located: 78 Rue Quincampoix, 75003 Paris
Metro: Rambuteau (line 11)
Opening time: 4pm-2am every day
Andy Wahloo
This is a very stylish bar that draws inspiration for its design from the artist referenced in its name: Andy Warhol. The Moroccan influences come from 'Wahloo' which means 'I have nothing' in Arabic, so the bar has Moroccan décor from the 70s as well as pop art. A big selection of cocktails are available here with the 'Old Fashioned' being one of the favourites, but there are lots of options to try something new. A DJ plays most nights which adds to the ambiance and creates a great atmosphere to enjoy a drink or two.

Located: 69 Rue des Gravilliers, 75003 Paris
Metro: Arts et Métiers (line 3 or 11)
Opening time: Tuesday-Saturday: 6:30pm-2am, Sunday-Monday: closed
L'Attirail
L'Attirail is a hidden gem tucked away in a back alley in the 3rd arrondissement. The walls are lined with graffiti, posters and people's passport photos which make for a very trendy and different décor. They offer a €3.30 pint at all times which is unheard of in such a central arrondissement and all the main courses cost only €11 and they are big portions! Also, if you stay for a few drinks you are given free plates of garlic chips that go perfectly with a drink.

Located: 9 Rue au Maire, 75003 Paris
Metro: Arts et Métiers (line 3 or 11)
Opening time: 10am-2am every day (except Sunday 5pm-2am)

Click here to see our selection of apartments located in the 3rd arrondissement.

Visit
Musée des Arts et Métiers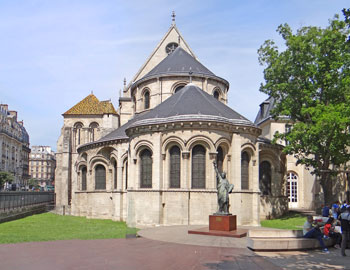 Musée des Arts et Métiers is an industrial design museum founded in 1794 as a storage place for the preservation of scientific instruments and inventions. It is located right next to the metro station with the same name. The museum exhibits a history of technological innovation. It was refurbished in 2000 and is home to over 2400 inventions, including the Foucault Pendulum, cars, planes, etc. It is split into 7 collections: scientific instruments, materials, energy, mechanics, construction, communication and transport. The original Statue of Liberty is found just out the front of the museum, as well.

Located: 60 Rue Réaumur, 75003 Paris
Metro: Arts et Métiers (line 3 or 11)
Opening time: 10am-6pm every day (Thursday open until 9:30pm and closed Monday)
Musée Carnavalet
This museum shows Paris' long and difficult history through its free permanent collection, from the medieval period, through to the Renaissance, the Revolution and further. You will gain knowledge about the city's architecture and history and will come away with some interesting knowledge about some of the city's most famous landmarks. This museum is not open at the moment for renovation but its reopening is planned for between the end of 2019 and the start of 2020.

Located: 16 Rue des Francs Bourgeois, 75003 Paris
Metro: Saint-Paul (line 1)
Opening time: temporarily closed
Musée Picasso
The museum is evidently dedicated to Pablo Picasso and is home to more than 5000 of his works of art in permanent collection, like his paintings, sculptures, drawings, etc. There are 40 rooms and around 400 artworks on permanent display here. The works were donated by his family after his death which was his wish after he spent the majority of his life in France. It's a great place to see some beautiful works of art from one of the greatest and most famous artists of the 20th century.

Located: 5 Rue de Thorigny, 75003 Paris
Metro: Saint-Sébastien – Froissart (line 8)
Opening time: 9:30am-6pm every day (closed Monday)


To continue your visit, why not head South into the 4th arrondissement to see sights like the Hotel de Ville and Notre Dame, and to experience the lively district Le Marais full of shops and bars… Or head North to discover the 10th arrondissement where you will find Canal Saint-Martin which is lined with great bars, coffee shops and vintage stores. Whatever you choose to do, we hope you enjoyed our guide to the restaurants, bars and sites to visit in the 3rd arrondissement in the Ile-de-France.


Are you looking for an apartment in Paris?
Lodgis offers a fabulous selection of furnished apartments for rent. We offer over 7,500 properties, from studio to family apartments with period features, spacious dining and living areas, terraces, elevator access…and just about anything!
If you want to discover another arrondissement in the French capital, read our article about the 6th arrondissement