Paris is the culinary capital of the world and is internationally renowned for its top-quality food. But for some families with young children, the experience of eating in a good French restaurant can quickly become a nightmare (dishes not made with younger palates in mind, an atmosphere that's too romantic or quiet, or not enough space for a pushchair… etc.). So you don't miss out on this culinary experience and to enjoy it with your little ones, we've put together a list of the best family-friendly restaurants in Paris.

Share some wonderful dishes and some quality time with your loved ones at these family-friendly restaurants that we guarantee will be just as popular with little ones as with adults! Bon appétit!

1) Le Cafézoïde
The first café in Paris designed ONLY for children under 16 (accompanied by an adult!), Le Cafézoïde is like nothing else. This is not just a family-friendly space, but a space designed only for families! With plenty of toys and plenty of space to play both indoors and outdoors, your children will love the freedom to explore the cafe while you enjoy some delicious cake or a freshly prepared meal. There are also regular workshops held for the children, on subjects ranging from sign language to yoga, but also for the parents, on parenting topics such as Father Christmas and feeding your child.

Address: 92 bis quai de la Loire, 75019 Paris
Hours: Wednesday to Sunday, 10:00-18:00
Click here for more information.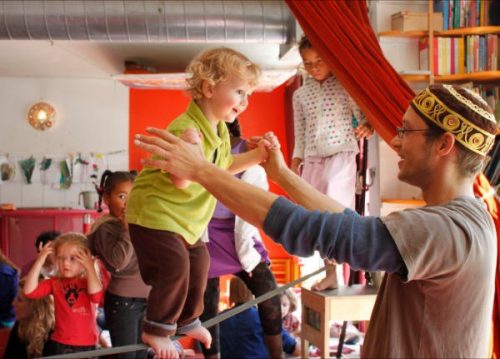 2) Les 400 coups
Located inside the Cinémathèque Française, les 400 Coups is designed with children in mind. High-chairs are readily available, as are child-sized tables and chairs, but the star of the show is the toy corner. With wooden blocks, an enormous blackboard and plenty of other toys, this play area is sure to keep your little ones occupied! The menu is also perfect for small fussy eaters. The Sunday brunch menu offers such delights as confit de canard and bacon with maple syrup for grown-ups, alongside a mini brunch menu for children with enough eggs, sausages, potatoes and chocolate cake to fill a small stomach!

Address: 51 Rue de Bercy, 75012 Paris
Hours: 11:00-15:30 on Monday, closed Tuesday, open 11:00-20:00 Wednesday to Saturday, and 11:00-19:00 on Sunday.
Click here for more information.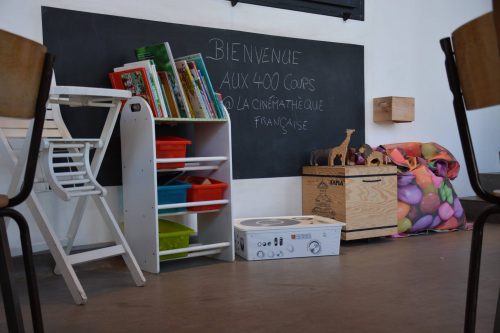 3) Le Super Café
This amazing place offers a beautiful terrace where your children can enjoy riding their bikes or scooters as you sip a latte ! While they wear themselves out, you could also tuck into some of the simple, wholesome meals made from fresh, local, seasonal ingredients (think traditional vegetable stews or a hearty falafel salad). Half café-restaurant, half play center, your kids are sure to love the little play house and the children's corner. An amazing mini-bistro is currently under construction, so your children can play at being in a restaurant while you eat in one for real !

This is more than just a restaurant, it's a center for the local community and the location of many concerts, shows and workshops. These workshops range from music and dance classes to making art from recycled materials !

Address : Place Mélina Mercouri, 75020 Paris
Hours : 10:30 – 19:00
Click here for more information.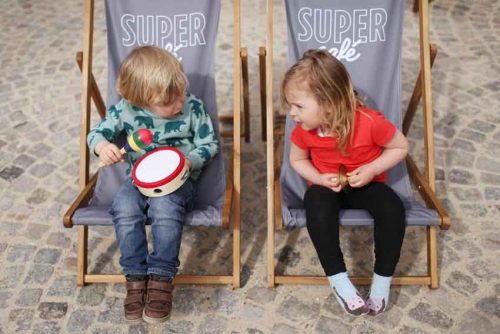 4) Café Suédois in the Institut Suédois
This café is nestled inside the Swedish Institute. Opening onto a large courtyard, there is plenty of space here not only for pushchairs, but for your children to play in a contained area within your sight! Enjoy a typically Swedish cinnamon bun while you watch them play. The self-service cafe has a casual feel, high chairs are provided and the staff don't mind too much if you need to move some of the furniture around to make space for your family! Moreover, the courtyard is almost directly opposite a small garden where your little ones can blow off some steam.

Address: 9 Rue Payenne, 75003 Paris
Hours: Closed on Monday, 12:00-18:00 Tuesday, Friday, Saturday and Sunday, 12-20:00 Wednesday
Click here for more information.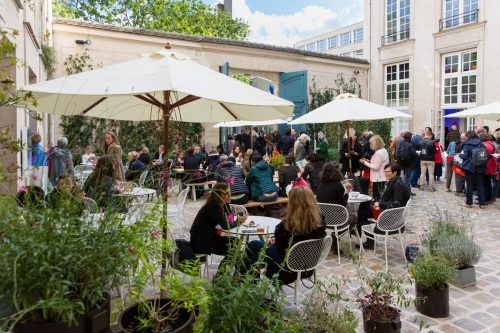 5) Astier
Serving top-quality food at affordable prices, Astier has been open since 1956. With red-chequered tablecloths, vintage photos and wood paneling, this is a typically Parisian dining experience that is also family friendly. The cheese plates comes highly praised and the menu offers such jewels as pork cheek with onions and crispy bacon and fresh scallops with chestnut purée. However, one of the best touches is the child-friendly homemade rum baba, made without the rum so your little ones can enjoy it.

Address: 44 rue Jean-Pierre Timbaud, 75011 Parisian
Hours: 12:15-14:15 and 19:00 to 22:30 Monday to Friday, 12:15-14:15 and 19:00 to 23:00 Saturday, 12:30-14:15 and 19:00-23:30 Sunday.
Click here for more information.