Are you coming to Paris for a couple of days or a few weeks and flying into Roissy Charles de Gaulle airport (Paris-CDG). Wondering how to get to the center of Paris? Here's some advice to save you time!

Note: Flying into Orly airport? Don't panic, you'll find all the information you need in our last post «How to get to Paris from Orly airport? »
Where is the Paris CDG airport located?
Finding your bearings and getting around can be a challenge…If you're arriving into Charles de Gaulle airport, you'll be landing relatively far from the city center, in Paris' outlying suburbs. In this article you'll find all the necessary information for getting into Paris stress-free.
Paris Charles de Gaulle is the largest airport in France. It's situated around 20km north-east of Paris.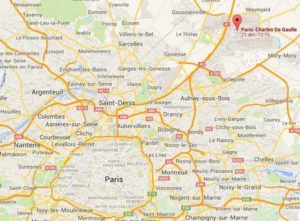 How to get to Paris from Charles de Gaulle?
Public transport is the cheapest way to get to the center of Paris. There are a number of options for reaching the capital from the airport: RER, trains, bus… you'll be spoilt for choice! You can choose the means of transport that best suits your needs.
RER
With trains leaving every 6-15 minutes the RER B enables you to get to Paris quite easily. It crosses the city from north to south, calling at the following stations in Paris: Gare du Nord, Châtelet – Les Halles, Saint Michel – Notre Dame, Luxembourg, Port Royal, Denfert-Rochereau and Cité Universitaire.
The airport is served by two stations
1 – Aéroport Charles de Gaulle 1, which is linked to Terminals 1 and 3
2 – Aéroport Charles de Gaulle 2-TGV, which is linked to Terminal 2
To get to your terminal station, follow signs for " Paris par train" (Paris by train).
It takes 30 minutes to reach central Paris and tickets costs 9.75 euros for adults and 6.85 euros for children. You can buy them from the ticket office or the machines in the terminal station, and in every Metro or RER station.
If you're taking the RER for the first time, take a look at our city guide: (Lien article Métro)
If you miss the last train at 11:50 pm, we advise you to take the Noctilien (night bus, see below)
Bus
The Roissybus shuttle
The Roissybus shuttle runs between the airport the metro station Opèra in central Paris.
Travel time is around 45-60 minutes (be aware of the traffic conditions – certain times are to be avoided).
A roundtrip ticket will cost you €10,50. Buses depart every 15 minutes from 05.45-20.00 at the main departure terminals.
For more information about timetables, visit the website : parisaeroports.fr
AirFrance coach ( Cars AirFrance)
"Cars AirFrance"The Air France coaches also offer a direct connection between CDG airport and Paris. There are a number of stops in central Paris: Porte Maillot (Métro 1, RER C), Place Charles de Gaulle Étoile – Champs Élysées (Métro 1, 2, 6 et RER A),  Gare Montparnasse (Métros 4, 6, 12 et 13) and Gare de Lyon (Métro 1, 14 et RER A).
Note: There's also a coach that links Paris' two major airports: Roissy Charles de Gaulle and Orly (cost: €20). For more information, we recommend that you visit the website: Cars Air France
By Noctilien (night bus)
The "Noctilien" (nightbus) is the only means of public transport available after the last RER B train at 23.50. The N143 runs to the gare de l'Est and the rest of the Noctilien network every 30 minutes between 00.00 – 04.30 from Terminal 3 (bus station Roissy pôle), from Terminal 1 (platform D, gate 12), and from Terminal 2 (platform F, gate 2).
A one-way ticket costs €7,60 or 4 metro tickets. The journey takes around 55 minutes. The nightbus N140, which runs the same service as the N143 to the gare de l'Est, departs hourly from 01.00-03:00 and takes around 80 minutes.
For more information on the Paris buses, have a look at our article: A practical guide for getting around by bus in Paris
Taxi
There are plenty of taxis (beware of the queues) that will take you from the airport to your destination.
Book your taxi in advance: We have negotiated a special 10% discount for you on transfers to your apartment with PariShuttle.
Two options are available:
1. A private taxi (sedan or minivan) booked exclusively for you with a chauffeur who will meet you off your flight with a personalized sign.
2. A taxi called a "collectif" (8-person minivan) that provides a shuttle service between the airports and the different passenger addresses. This taxi will wait for you in a precise location at the airport.
PariShuttle also offers airport transfers from your apartment (to CDG and Orly) for your return. Bookings must be made at least 24 hours in advance. Simply click on the link to access the booking page and benefit from our special rate.
Car rentals
Rent a car at your arrival!
Would you prefer to rent a car? Be aware that prices will depend on the car model and the rental period. You'll find a number of car rental companies at each terminal of Charles de Gaulle airport: Avis, Budget, Europecar, Hertz, National Citer, Sixt and TT Transit.
Train
Roissy Charles de Gaulle airport has a train station serviced by the TGV (Train à Grande Vitesse, amongst the fastest trains in the world). This TGV station allows you to reach many French cities directly from Roissy… but not Paris! However, it does enable you to get to Disneyland Paris in just 90 minutes.
The Roissy TGV station, called « Aéroport Charles de Gaulle 2-TGV », is situated in the center of Terminal 2, next to the RER station, is situated between gates 2D/2F and 2C/2E.
Transferring between the airport terminals
Should you need to transfer from Terminals 1 or 3 to Terminal 2, a driverless shuttle train (the CDGVAL) operates across the airport to connect the terminals.
Alternatively, for inter-terminal transit take the N2 shuttle bus.
Note: If you take the train from Paris to the airport, leave 50 or 60 minutes before check-in time and, from the airport to Paris, 60-80 minutes before train departure.
See our post: Tips on taking the train