Enjoying good wine is an essential part of the Parisian experience. But how, exactly, can you find good wine in Paris, if you don't know anything about it? It can all seem a bit daunting when you are a long way from home and without any help. To experience different wines, gather information and find some hidden gems, you'll have to think outside the box and move away from the traditional wine trade.

This is why LesGrappes.com proposes a different way of learning about French wines – and those that can't be missed! How? By trading directly with wine growers and producers and by developing a field of experts and wine enthusiasts, like a social network … Here's how:

LesGrappes.com: The Facebook of French wine
Whether you are living or staying in Paris, you cannot miss out on one of France's greatest specialities: wine!

Given the vast number of labels, vintages and awards, choosing wine is often difficult and, for beginners,  it can be an overwhelming and confusing process. Sometimes the advice we are given can also be difficult to follow. Also, wines that are found in traditional shops scarcely represent what is happening across France.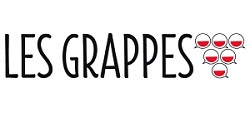 Such observations inspired the creators of LesGrappes.com to create the first community market devoted to wine and focusing on developing consumer relations with independent growers. Winemakers, who wish to sell their products more simply and directly to their eventual customers, are rated on the website and can, for the first time, sell their wine directly.
Consumers can, in turn, create a network (comprising their contacts/friends, experts, and winemakers listed on the website) to help others choose wine based on descriptions, comments and reviews.
In summary, LesGrappes.com enables anyone, whether novice or connoisseur, to discover and purchase great wines directly from independent winemakers, thanks to reliable reviews and recommendations from customers and experts on the website. What's more, the wine is delivered to you free of charge.

Choose your wine wisely and get it delivered for free!
Purchasing your wine online couldn't be easier; just visit www.lesgrappes.com and login.
A community of amateurs (anyone can join and invite contacts) and wine experts (winemakers, sommeliers …) helps you to place your order. You can then choose your wine from amongst other vintages from the same area. The winemaker then dispatches your order and you will have it delivered for free within 72 hours.

All you have to do is enjoy your bottle of wine and share your feedback with the community on Lesgrappes.com!
French gastronomy would be nothing without its wine … especially when produced with timeless passion by small producers across France. Now you can enjoy your stay in Paris and discover the delicious French wines, thanks to LesGrappes.com!