In this post, we'll look at how Halloween is making a spooky comeback in Paris and how to spend it in the French capital.

Halloween still remains a relatively recent phenomenon in France. By contrast, the French have for centuries celebrated All Saints' Day (La Toussaint) on November 1st, a quiet day on which Christians visit cemeteries to honor the graves of the deceased and take the opportunity to spend time with friends and family.

But Halloween, which many of us associate with trick-or-treating, scary costumes, jack-o'-lantern pumpkins and haunted houses, is becoming increasingly popular in Paris.

Whether you're a family, a student or a young professional, this should give you a few ideas on how to celebrate the 31st October in the French capital.
What to expect
While Halloween is becoming increasingly popular in Paris, don't expect the same level of celebrations, especially if you're from the USA, Canada or the UK.

Trick-or-treating, for example, is rare in the French capital, so you're better off buying some candy and planning your own fun for the kids!

Expats aside, you won't find many people dressed up for Halloween, but don't let that stop you and your kids from from giving people the fright of their lives! Here are a few recommendations for picking up fancy-dress in Paris:

Au fou rire
Affordable costumes for kids and adults for rent and for sale
Address: 22 bis rue Faubourg Montmartre, 75009, Paris
Opening times: Monday-Saturday (09.30-19.30)

Au bal masqué
Fewer monsters and more historic period outfits. Basic accessories are affordable or you can choose to splash out on costume hire for a night.
Address: 1 Avenue Alphand, 75116, Paris
Opening times: Tuesday-Friday (10.30-18.30); Saturdays (11.00-19.00)

À la poupée merveilleuse
A small fancy-dress boutique with costumes and party supplies to suit all occasions.
Address: 9 rue du Temple, 75004, Paris
Opening times: Tuesday-Saturday (10.00-19.00)
Family outings
Want to make the most of Halloween without going trick-or-treating but wondering what stays open? Look no further!
Disneyland Paris is putting on its annual Halloween festival (1st October to 5th November), where Mickey and friends must overcome Disney's greatest villains. Click here to find out more.
Parc Astérix will be running its famous "Peur sur le Parc" between 14th October and 5th November, and will stay open until midnight on the 28th, 29th, 30th and 31st October for its classic fright nights. With 3 levels of fear, ranging from fairly frightening to slightly scary to absolutely terrifying, this can either be a fun day out for the family or a blood-chilling night out with friends. Click here to find out more.
If you'd rather not leave Paris, but won't settle for a quiet night in, you might be interested in the late-night visits offered by the Musée Grévin, the historic wax museum that this year is offering a werewolf-themed event called "La Bête" and staying open late from 25th to 31st October. Or you could try Le Manoir, an eerie haunted house where the monsters will be waiting to greet you. This year's events are called "Liens de Sang" (Blood Ties) and Rituel and are so terrifying that they're not recommended for children under 12! From 14th October to 12th November.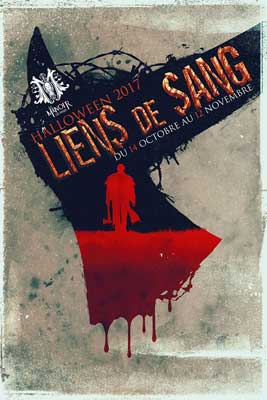 Halloween for grown-ups!
Halloween is also a great opportunity for grown-ups to enjoy themselves, particularly thanks to the bank holiday the following day!

Try heading to the Le Cabaret Sauvage for their Fiesta de los Muertos. With live music, DJs and a make-up stand, this will definitely be a night to remember!
18€ entry, 20:00 to 05:00, 59 Boulevard Macdonald, 75019


Hopefully this article will help set you up for thrilling Halloween in Paris. Make sure you stock up on candy because the next day, "La Toussaint", many supermarkets and restaurants will be closed!


Take a gourmet break and enjoy the best pastries in Paris