Calling all film lovers! Summer is finally here which means that open air cinemas are back! What better to way to enjoy the lovely weather than by watching a film in the park with your friends or family? If this sounds like your perfect evening, then this post is for you! Here is our selection of the best open air cinemas in Paris.

La Villette
La Villette is home to the biggest open air film festival in Paris, which lasts for around a month. The theme of the festival this year is 'Shall we sing?' and the selection of films includes La La Land, The Jungle Book, Jules et Jim and Les Parapluies de Cherbourg (The Umbrellas of Cherbourg). It's a very popular event and showcases a variety of different films, both French and international, award-winning classics and modern hits, films for children and many more. There's something for everyone here and it attracts film lovers of all ages. This would make a great summer outing with the family or an evening with friends. We recommend bringing a picnic and blankets to make the most of your evening. You can also rent out deckchairs for €7. Entry is free.

When? 18th July – 19th August
Where? Parc de la Villette, Prairie du Triangle, 221 avenue Jean Jaurès 75019


Château de Vincennes
Une toile sous les étoiles is a free outdoor film festival that takes place over three nights at the Château de Vincennes. This year's screenings will include Un long dimanche de fiançailles (A Very Long Engagement), Nos jours heureux (Those Happy Days) and La vache (One Man and His Cow). This is the perfect place for a film night, as the château is not normally open in the evening and so you'll have the chance to see it after dark. There will be food trucks on the grounds and free deck chairs available.

When? 5th – 7th July
Where? Château de Vincennes, Avenue de Paris 94300

Champs Élysées
For the first time ever, the Champs Élysées will be transformed into an open air cinema this summer for one night only! This exciting event is not to be missed! A giant 180m2 screen will be set up in front of the Arc de Triomphe to show Les Visiteurs on 1st July. Places are limited to 1700 tickets and to be in with a chance of being a part of this unforgettable Parisian experience, you have to have already registered your interest online by taking part in the vote to choose the film. Hopefully if the event is successful, it will return again next year and be open to more people!

When? 1st July
Where? Champs Élysées, 75008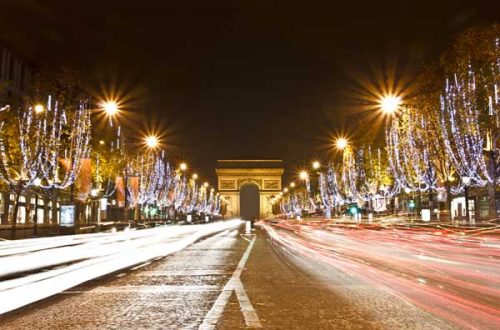 Domaine de Saint-Cloud
The 15th edition of the Films sous les étoiles film festival will take place this summer in the Domaine de Saint-Cloud. This year's selection of films includes La Cité de la peur (The City of Fear), The Artist and La La Land. We recommend getting there early with a picnic and blankets, so you can make the most of the nice weather and explore the park before the films start. A short film will be shown before the main screening. Entry is free.

When? 21st – 23rd June
Where? Domaine national de Saint-Cloud, 92210


For more summer ideas, be sure to read our article on the best summer concerts and festivals in Paris!