Spending Christmas in Paris with kids is an amazing opportunity, so go out and make the most of it with these amazing events and activities for families ! Feel the holiday cheer coursing through Paris and make some wonderful memories with your children and loved ones. Paris at Christmas is a winter wonderland and we're here to tell you what to do with your kids to make this a holiday season they'll never forget. Just hear those sleigh bells jingling…

1) Christmas lights on the Champs-Elyées
This year the Christmas lights on Paris' most famous street were turned on by Lily-Rose Depp. The face of Chanel and daughter of Johnny Depp and Vanessa Paradis will be joined by two children aged 6 and 7 from Association Petits Princes, a charity that helps sick children carry out their dreams. Come walk along Paris' most famous street and enjoy the twinkling lights and beautiful Christmas for a magical and festive experience.

When ? : 22nd November, 18:00
Where ? : 127 avenue des Champs Elysées, 75008 Paris
How much ?: Free


2) The Prince and the Swan
This December the Chantilly stables are staging a retelling of the classic Tchaikovsky ballet Swan Lake over the holiday season. However, instead of dainty ballerinas in tutus and tights, this ballet will be performed by horses dancing surprisingly gracefully! A once-in-a-lifetime experience, this hour-long show (not too long for little ones who don't like sitting still!) the perfect family activity and located in stables dating from the 18th century. Your children will amazed, but they may well ask for a pony in their stocking on Christmas day…

When? : 2nd December 2017 to 7th January 2018
Where? : Château de Chantilly, 60500 Chantilly
How much? : 17 €. Click here for more information.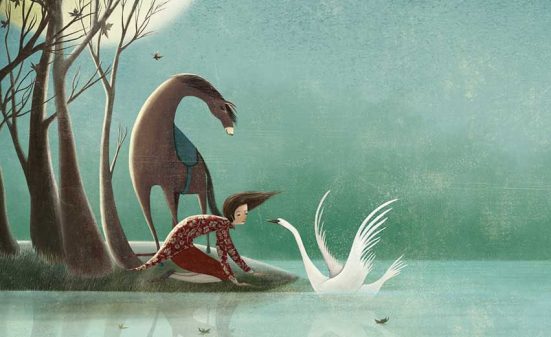 3) Slava's Snowshow
The Russian clown Assissaï is back in Paris with his famous seasonal show to help you get into the Christmas spirit. Watch this sad clown and his zany clown friends undertake a series of adventures in a wonderland covered with snow and get up to all sorts of mischief. You'll laugh, you'll cry, but you and your family will enjoy every moment !

When? : 13th December 2017 to 7th January 2018
Where? : Le 13ème art, Place d'Italie, 75013
How much? : 36€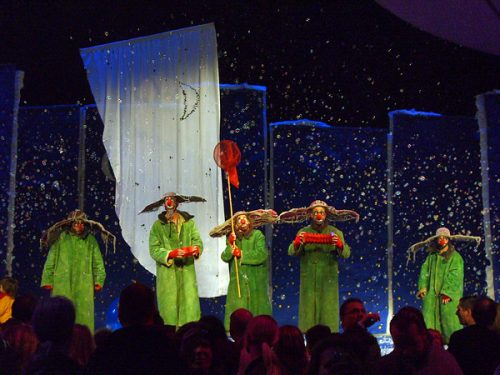 4) Visit Santa Claus at Galeries Lafayette
Head to the world-famous department store Galeries Lafayette, another Parisian landmark, to enjoy the stunning Christmas decorations and to introduce your little ones to Santa Claus! Find him on the 5th floor from the 8th November right up to Christmas Eve. Don't forget to take a photo with Santa and tell him EXACTLY what gifts you want for Christmas when you hang up your stockings or leave out your shoes! While you're there, buy your last few presents and finish your Christmas shopping. This holiday activity is useful and festive!

When?: 8th November to 24th December, open daily from 9.30- 20.30 (Sundays 11:00- 19:00)
Where? : 40 Boulevard Haussmann, 75009
How much? : Free. Click here for more information.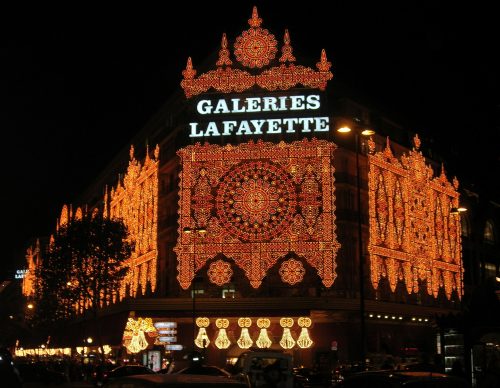 5) The Ferris Wheel at Place de la Concorde
Every year during the holiday season an enormous ferris wheel is installed at Place de la Concorde. The 70m-high wheel offers you a stunning view of the entire city, including the Jardin des Tuileries, the Louvre, Notre-Dame, the Champs-Elysées and the Arc de Triomphe. This is also the best place in the city to enjoy all of Paris' Christmas decorations! Enjoy the amazing view, as well as warming up with hot chocolate or donuts from the food trucks next door once you've finished.

When?: 17 November 2017 to May 2018
Where?: Place de la Concorde, 75001
How much?: 12€ for adults, 6€ for children under 10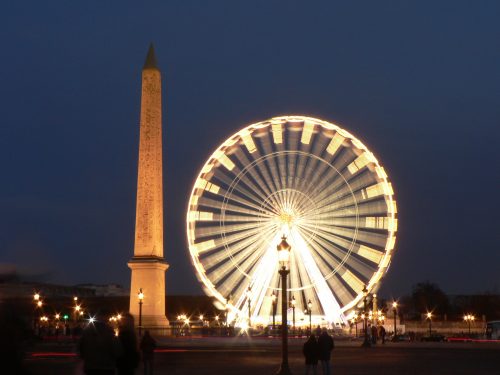 6) Disneyland at Christmas
Spend the day at Disneyland Paris this Christmas for an experience your family will never forget. Your kids will love the Frozen sing-a-long, the holiday parade and meeting Santa as well as their favorite Disney characters. Enjoy the dazzling lights, the enormous Christmas tree and Mickey Mouse's Christmas concert!

When? : From 11th November to 7th January, open daily from 10:00 to 20:00
Where? : Boulevard du Parc, Serris, 77700
How much? : From 49€ for adults and 42€ for children. Click here for more information.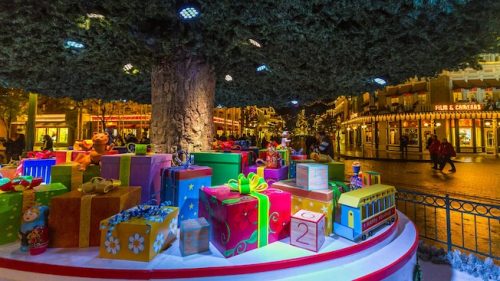 7) Carousels
Over the holiday season, from mid-December to the beginning of January, four of the carousels that dot Paris are free for children! These beautiful and traditional roundabouts have wooden horses, carriages and mirrors and play twinkling Christmas music, which is sure to make this a family activity that will delight your kids as well as make a wonderful photo opportunity! Try two of Paris' most beautiful carousels by Hôtel de Ville and by Sacré-Coeur, which featured in the film Amélie and dates from the 18th century.

When? : 20th December to 4th January, 11:00 to 21:00
Where? : Hôtel de Ville (4th), Place d'Italie (13th), Gare Montparnasse (15th), Sacré-Coeur (18th)
How much? : Free. Click here for more information.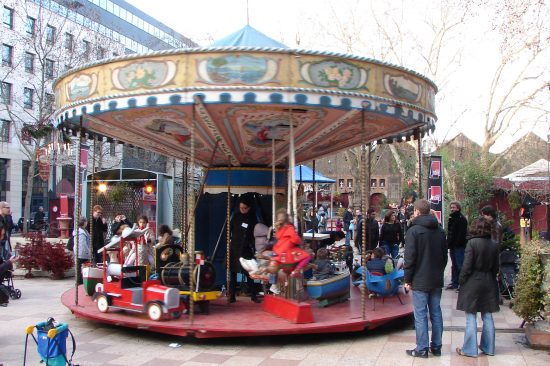 8) Charléty sur Neige
This sports stadium will offer free winter sports to children at Christmas! A great idea for a family outing in Paris at Christmas, there'll be sledging, ice skating, a snow garden, mini golf, trampolines and a zip wire! Surrounded by real snow and Christmas trees, your kids will think they're in the North Pole! Keep your family active and get a taste of the great outdoors and different winter sports this Christmas.

When? : 23rd to 30th December 2017, Monday to Friday 13:30 to 18:00, Saturday and Sunday 13:00 to 18:00. Closed on 25th December.
Where? : 99 Boulevard Kellermann, 75013
How much? : Free. Click here for more information.