Every year the "ShneiderElectric" Paris Marathon  is a major draw! It is one of the most famous marathons in the world and for this year 2017, around 57,000 runners from across the world and 140 different nationalities will participate.


42.195km in the most beautiful city in the world.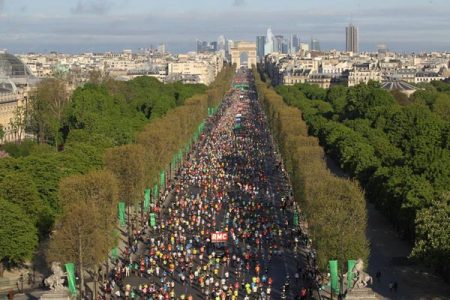 Running in hot and sunny weather, as the wind blows, on the Avenue des Champs Elysées, in the Bois de Vincennes and the Bois de Boulogne (Vincennes and Boulogne woods) – what's not to like?

Like the Tour de France, you can follow runners in real time (live) and admire the beautiful landscapes of the capital (with aerial views of the Place de la Bastille, Rue de Rivoli and even of Notre Dame cathedral) on the TV channel France 3.

The Paris marathon is both sporting challenge and an opportunity to discover Paris!

An international competition in Paris
The Paris marathon is not reserved for just Parisians –  only half of the participants live in Paris and a third are foreigners, which is testament to the supreme dominance of the Ethiopian and Kenyan runners.

They have been 'unquestionable winners' over the past 10 years.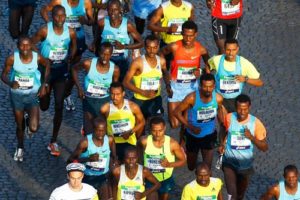 practical information
dates and course
The 40th year of the Paris Marathon will take place on Sunday 9th of April 2017.
The 42 195 kms' course will follow these steps:

– Avenue des Champs-Elysées (start line)
– Rue de Rivoli
– Rue Saint-Antoine
– Hôtel de ville
– Place de la Bastille
– Bois de Vincennes
– Avenue Porte de Charenton
– Avenue Daumesnil
– Quais de Seine
– Bois de Boulogne
– Porte Dauphine
– Avenue Foch (finish line).

The registrations for the Paris marathon 2017 are closed.

Medical certificate and bibs
Sportsmen are required to submit their sport license. As for non-licensee, they are required to submit a medical certificate written by their doctor, explaining that they're able to run through the entire Paris Marathon course for 2017.

The numbers will be communicated to the runners who registered for the Paris Marathon 2017, however, in order to get their bibs and numbers for the course, they will have to go at the counter and show their registration confirmation, identity card and the famous medical certificate or license (for the sportsmen).

Lodgis wishes best of luck to the runners and hope you will enjoy this special moment in Paris!


Feeling hungry after sports events? Check out our post about the gourmet restaurant of the 2nd arrondissement of Paris!

---