It can be difficult to navigate your way through public transport, especially when you're not used to it. Here's our advice to help you make your way around Paris' metro system easily and calmly…
How to find the Paris metro?
In Paris you're never more than 500 metres away from a metro station; that is to say a 5 minute walk, so they're really not difficult to find. Keep an eye out for the red "Metro" sign, or the yellow and green "Metropolitan" one. You can also think about downloading the RATP app on your smartphone which tells you where the closest station is, calculates the time your journey will take, and even lets you know about any line disruptions. Take note that the Paris metro is particularly bad for accessibility as there are plenty of steps and very few elevators. If you have a wheelchair, or have a hard time walking, taking the bus may be a better idea.
Buying tickets
To take the metro you will need to buy a ticket at either one of the windows or the ticket machines. The ticket machines can be in 5 languages (French, English, Spanish, Italian, and German,) so it may be useful to use them if you're French isn't great. Children under 4 will be able to ride for free without a ticket, but need to be accompanied by an adult at all times. When buying tickets however, there are different tariffs depending on your departure point and your destination. Normally, for tourism, zones 1-3 are all you'll need. There is also a reduced rate for children, students, large families, disabled people, seniors, and those in precarious situations (benefiting from earned income supplement, specific welfare allowance etc.)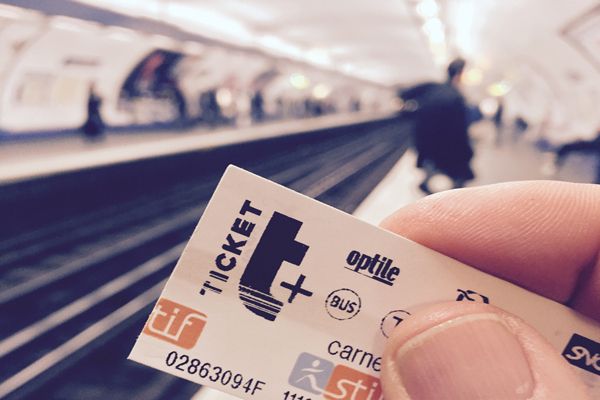 Types of ticket
t+ Ticket
These tickets are valid for one trip. They only work within zone 1, but you can use the metro, the bus (except for Orlybus and Roissybus), the RER, the tram, and even the cable car in Montmartre. A single ticket will cost you €1.90 while a 10 ticket booklet costs €14.90, so €1.49 per ticket.
Mobilis
The Mobilis ticket allows as many trips as you like within a day and you can even buy this type of ticket according to the zones you need. Currently, the price for a Mobilis ticket for 2 zones is €7.50, a ticket for 3 zones will cost you €10, a ticket for 4 zones is €12.40, and a ticket for all zones is €17.80.
Paris Visite
This ticket comes in two forms, one that is valid for zones 1 to 3, and the other which is valid for zones 1 to 5. The ticket for zones 1-3 costs €12 for 1 day, €19.50 for 2 days, €26.65€ for 3 days, and €38.35 for 5 days. The ticket for all 5 zones costs €25.25 for 1 day, €38.35 for 2 days, €53.75 for 3 days, and €65.80 for 5 days. This type of ticket also gives you discounts at partnered attractions, such as 25% off entry to the Arc de Triomphe.
The Navigo
The Navigo is an electronic smartcard which replaces your paper ticket. For those just visiting Paris there is the "Navigo Découverte, which is €5 to buy. If you are a resident of the île-de-France, the card is free the first time, but if you lose it there is a replacement cost. Daily tariffs are the same as for the Mobilis ticket. Be careful, as the Weekly Navigo pass does not begin from the day of purchase but rather Monday. So, if you buy a weekly pass on Saturday you will only have it valid for two days! Per week, for zones 4-5 you will pay €19.85. For zones 3-4, €20.20, 2-3, €20.85, and all zones costs €22.80. Monthly, zones 4-5 costs €65.20, zones 3-4, €66.80, 2-3, €68.60, and all zones costs €75.20.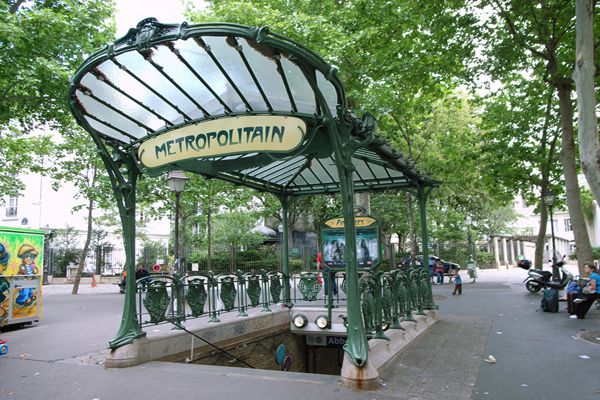 Planning your journey
Inside every station you will find a map of the metro which you can use to figure out the best route to take. Follow the lines connecting from your destination to your departure point. Otherwise, you can use the RATP application which will show you the best route.
Getting to your stop
Once on the train, some of the newer cars have lights on the map indicating the current stop, and which stops have already been passed. Others only have a voice to announce the stations. Watch out if you're not used to Paris, as some stations are pronounced differently to what you'd think! Keep an eye on the map and on the station platforms to make sure you don't miss your stop.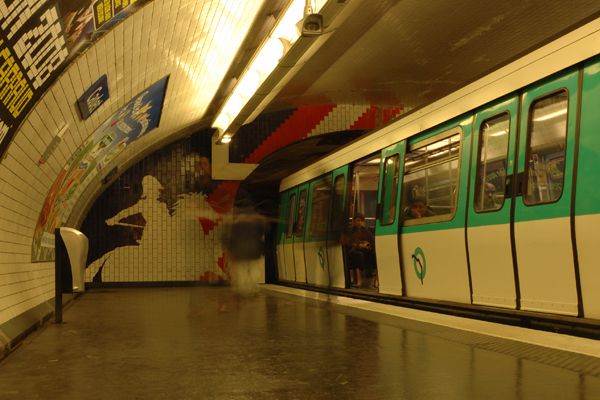 Opening the carriage doors
If the doors don't open automatically, there will either be a green button for you to press, or a metal handle that you merely need to pull up. It's normal in France to see people trying to board the train before others have been able to get off. Don't be afraid to force your way off…this is France!
Finding the right exit
Now that you've arrived at the right station you'll need to find the right exit. There are signs pointing out the roads and landmarks closest to the exit. If you take the wrong one, don't worry as all the exits are close together. If you find yourself lost at Châtelet… welcome to the club and good luck!
Are you looking for a family apartment in Paris?
Lodgis
offers
a fabulous selection of furnished apartments for rent.
We offer over 7,500 properties, from studio to family apartments with period features, spacious dining and living areas, terraces, elevator access…and just about anything!
Now you've learnt a bit more on the Paris Metro, why not try out electric scooters?