Moving to Paris can be an exciting experience, but it's always good to be prepared before settling in this enchanting city. Switching from one country to another does have certain magical moments, but also moments of doubt and fear. This is why Lodgis has put together this practical survival guide for all the wannabe expats out there who'd like to come to Paris!

1. How to get your bearings in Paris
First things first, it's essential to get your bearings in Paris. This little snail is not quite so easy to follow when you've just arrived. However, there are three different ways to divide up the city.

Firstly, let's have a look at the Snail map of Paris: the arrondissements are very close to one another as they wind up, following a clockwise spiral.
Secondly, think about the romantic and beautiful river Seine that slices up the city in 2 parts: the right bank (northern Paris) and the left-bank (southern Paris). The right bank groups 14 arrondissements together (the 1st to the 4th, the 8th to the 12th, and the 16th to the 20th) and the left-bank groups 6 arrondissements (the 5th to the 7th and the 13th to the 15th).
Thirdly you can divide the city into 2 rings. The first ring represents the very heart of Paris, from the 1st to the 11th arrondissement, whereas the second ring represents the arrondissements surrounding it, from the 12th arrondissement to the 20th arrondissement.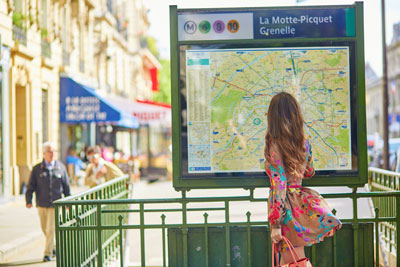 2. Finding accommodation
Whether you are looking for a studio or a loft, you need to bear in mind that the price per square meter depends on the arrondissement. Most people think that they absolutely have to settle in the first ring to enjoy the beauty of Paris, but that's definitely a misconception. Paris doesn't have a proper "downtown", each arrondissement of this city has its own atmosphere, advantages and unique quirks. In other words, you don't need to break the bank for an "authentic" Parisian experience!

Apartment hunting in Paris can be a bit tricky sometimes, however with some good advice you should definitely find what's best for you. This is why Lodgis has a multilingual team of advisers who are all passionate about Paris!

Whether you are coming alone, with your family, your significant other or your colleagues, we will provide you with all the necessary information you need to help you find the best furnished rental for you. Studios, several-bedroom apartments, duplexes, triplexes or lofts, Paris' expert real estate agency has a
wide range of furnished rentals in the City of Light!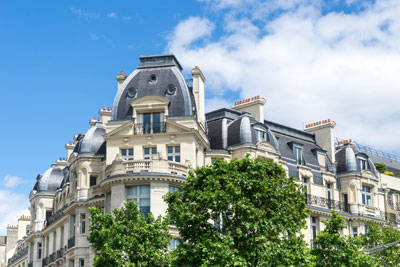 3. Getting around via public transport
You are spoiled for choice when it comes to transportation in Paris, as the city is extremely accessible in many different ways. You just need a navigo pass or any travel pass of your choice and you're good to go everywhere with any type of transportation you want:

– the Metro has 14 lines to around 300 stations in Paris and its nearest suburbs
– the Bus has 290 day lines and 31 night lines
– the Vélib' are everywhere. Indeed, the Mayor of the city is multiplying the eco-friendly initiatives to encourage Parisians to get around with these healthy and sporty treasures
– the RER (Regional Express Network) has 5 lines and to 249 station so you can move between Paris and the local region
– the Transilien, a railway network operating in Paris and its suburbs, has 14 lines serving 381 stations!

Paris is a city that is meant to be discovered on foot and by public transport, so don't hesitate to explore it and enjoy its magical scenery!


4. Lost in translation?
Learning French on the cheap is possible in Paris, in many different ways. The best is to register for the courses offered by the city hall! There are different levels and each one is adapted to your prior knowledge and what you'd like to learn. If you are working during the day, please note that they also have evening classes!

French-speakers also enjoy improving their language skills by meeting in bilingual cafes such as "Le troisième café"! It's an excellent way to socialize and to foster language and cultural exchanges between people. It's also a good way to meet Parisians and expatriates like you who would not only find it interesting to talk to you for linguistic reasons, but who also understand the difficulties you are facing (improving your French accent, idioms, etc.).

If you want to improve your French without having to take additional courses and without breaking the bank, go to one of the many bilingual bookstores in Paris!

5. Some essentials
– On the escalator: Stay on the left if you want to climb up it, but if you try doing that on the right-hand side you'll probably get pushed or yelled at.

– Emergency numbers are: 17 for the police and 18 for the firemen. For deaf and hard-of-hearing, you can send a text to 114.

– Looking for a bilingual hospital in Paris? The American Hospital is located at 63 Boulevard Victor Hugo 92200 Neuilly-sur-Seine!

– Water is free in Paris! Wherever you are, have a look at this little map to find the nearest water fountain.

– Try not to keep your official documents (especially your passport) with you, it's better to make copies of your ID and Passport and take that instead. Plus, you can totally use your student card as an ID.


Are you going to pursue your studies in Paris? Check out our Top 5 apartments near prestigious schools in Paris