Just because you're traveling with kids doesn't mean you can't have fun! Be careful not to over pack your schedule though!
With so much to do and see, it goes without saying that Paris cannot be visited just once! You won't get to see everything on your first visit, especially when you're with the kids. Your main goal should be to have fun and make your kids want to come back.

Which Neighborhood or Arrondissement to choose for your stay in Paris?
Choose the area that is most suitable for the purposes of your trip (tourist sites, in the heart of the city, among the locals, close to parks and public squares, metro station). And don't forget, of course, about your budget: prices can double from one neighborhood to the next.

Hotel or furnished apartment?
Think more about booking a furnished apartment in Paris than a hotel.

Firstly, for the comfort an apartment offers you, with more space for the family and more privacy for the parents. Secondly, for the Price : for the same surface area, you can rent an apartment in Paris 40% cheaper than a hotel room. Thirdly, for the authenticity of staying in a typical neighborhood with a bakery, local grocery stores, restaurants and public transport; live like a real Parisian!

Most importantly, for the practical side of staying in an apartment with a fully equipped kitchen where you can have your breakfast at the time of your choosing. Where you can prepare a meal with the fresh products you bought from the store around the corner. Where you can heat the baby bottle or have cheese and wine between lovers.

Our team of multilingual advisors can help you find the apartment you've been dreaming of.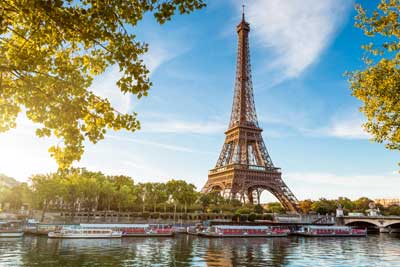 Stroller or Baby Carrier?
Stop worrying about it and travel light! Have you considered renting baby equipment? In Paris, you can rent everything you need for your family's stay: folding baby cots, car seats, booster seats, high chairs, strollers, baby carriers, and even toys for all ages.

And the luggage? Traveling with kids means comfy shoes!

Lodgis'TIP : Buses are more practical for families with strollers; they also allow you to see the city!

Paris with Children: what to Do and See?
There are the major tourist sites, of course (Eiffel Tower, Champs Élysées, Notre Dame Cathedral, Montmartre, the Louvre, Orsay, The Bateaux Mouches…), but also the places where Parisians themselves go and that will guarantee you a successful stay!

Parks and gardens
Jardin d'acclimatation,a beautiful recreational area located in the Boulogne Forest. There you'll find a Merry-go-Round village, little train rides, boat rides, mini golf, various workshops, playgrounds, puppet shows, pony rides, a small farm… and the Louis Vuitton Foundation !

Le jardin des plantes (Plant Garden) this magnificent place in the 5th arrondissement opened its doors in the 18th Century. Children can see more than 140 animal species.

In the Botanical Garden, you'll find the Zoo of the Botanical Garden, the Great Gallery of Evolution and the the Children's Gallery. Nature and animals – what more could you want for spending a lovely day with your kids?

Disneyland Paris the 22 km² amusement park is located just 30 minutes to the east of Paris. It can be reached by the RER A train (Marne-la-Vallée/Chessy station).

Visits and museums
Musée de l'Air et de l'Espace: (The Museum of Air and Space): go inside the cockpit of a Cessna or an a A320, visit the inside of the legendary « Concorde », go on board a marines helicopter, and monitor the airport activity from the control tower…heaven for young pilots!

La cité des enfants à la villette, Paris 19ème… Our favorite! With 2 fun areas specially created for 2-7 year-old and 8-12 year-old, including workshops, exhibitions, and other activities. A true bliss for the kids (and their parents!)
Prices: 9€ for adults, 7€ for children older than 2

Relaxing and strolling
Picnic in the Versailles Garden
Prepare a picnic basket in your apartment's kitchen and take it to the garden of Versailles Castle. Enjoy the charm of this magical place. It is only a 30 minute train ride (RER C) from Paris.

Get away from the hustle and bustle of the city: A stroll along the Saint Martin canal (10th and 11th arrondissement) – rent an electric boat with no need for a boating licence on the Ourcq Canal (Bassin de la Villette), take a walk in the Buttes-Chaumont park (19th)!

Looking for more original ideas to enjoy Paris with your children? Then don't hesitate to take a look at our section "Paris with kids"!