Unlike in English speaking countries, the French have their big Christmas dinner with their families on Christmas Eve instead of Christmas Day. To make things easier and more of a treat, many people celebrate Christmas Eve in a restaurant where they can eat France's traditional holiday foods without having to worry about cooking them. Check out our Top 5 of the best restaurants for Christmas Eve in Paris!
1) Le Marché du Lucas
At the famous Lucas Carton restaurant you can feast on the traditional Christmas Eve foods of champagne, oysters and foie gras, as well as suckling veal with black truffle and smoked salmon, for 259€ each (without wine) if you feel like treating yourself with a luxurious gourmet experience this 24th December (which we're sure you deserve). Alternatively, try the more affordable and more relaxed dining area upstairs, Le Marché du Lucus, for foie gras, truffle risotto, a passionfruit and coconut dessert and a traditional Bûche de Noël (French chocolate Christmas cake in the shape of a log) for a more modest 105€ per person.
Address: 9 Place de la Madeleine, 75008
Price: 105€
Click here to find out more!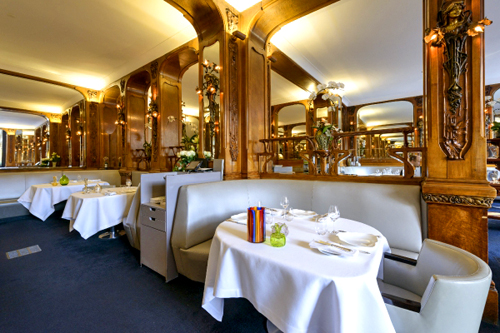 2) La Maison Blanche
This refined and sophisticated restaurant in the 8th arrondissement offers another traditionally opulent French Christmas dinner, full of langoustines, champagne, foie gras, duck and scallops with truffles, as well as a unique « pearl clouds » bûche de Noël. You can enjoy a white Christmas with these little snow balls and all this comes for a price of 145€ (including the champagne)! Try and get a table next to the window so you can enjoy the stunning view of the Seine, the Eiffel Tower and the Christmas decorations across the city from this panoramic restaurant on the 7th floor. Paris is particularly beautiful during the holiday season.
Address: 15 Avenue Montaigne, 75008 Paris
Price: 145€
Click here to find out more!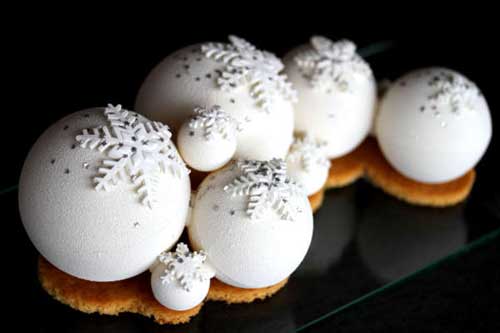 3) Le Train Bleu
Celebrate Christmas Eve in Paris at this extravagant, belle époque-era restaurant in the Gare de Lyon originally opened in the 1900s for the Paris World Fair and popular with Salvador Dali, Coco Chanel and Brigitte Bardot. Enjoy seven courses of champagne, scallops, foie gras and partridge for just 128€ per person (without wine). This legendary Parisian restaurant won't disappoint and is the perfect way to enjoy the holidays.
Address: Place Louis-Armand, 75012 Paris
Price: 128€
Click here to find out more!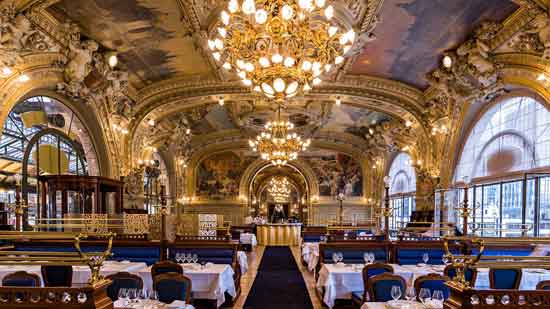 4) Congrès Auteil
Dine in the chic and sophisticated 16th arrondissement this Christmas Eve at the Congrès Auteil, for the very affordable price of just 50€ (without wine). This well-known seafood restaurant is welcoming and elegant, but also comfortable and relaxed. This is the perfect setting for a delicious and upmarket Christmas dinner, but without the price tag. Enjoy a seasonal feast of Christmas treats like gingerbread foie gras, veal, oysters, crême brûlée and rum baba!
Address: 114 bd Exelmans, 75016 Paris
Price: 50€
Click here to find out more!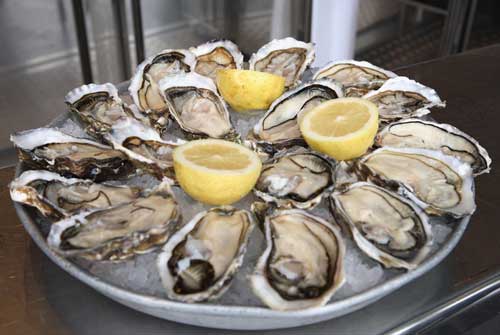 5) Les Bateaux Parisiens
Try a more unusual and unique setting this Christmas Eve with an unforgettable cruise on the River Seine with La Marina de Paris. From 145€ you can sample a traditional Christmas Eve dinner in Paris with foie gras, veal with truffles and polenta, a bûche de Noël, cheese and plenty of wine, served with stunning views of Paris and accompanied by live music. You'll leave at 20:30 and return at 23:00 after a Christmas Eve that you'll never forget !
Address: Port de la Bourdonnais, 75007
Price: 145€
Click here to find out more!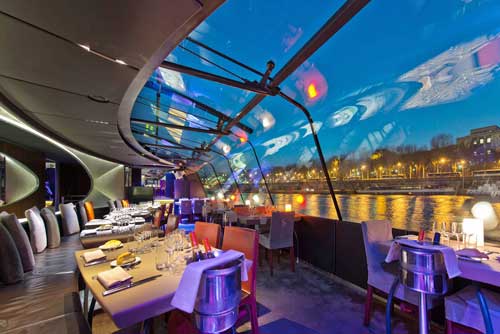 Want to know more about how to celebrate Christmas in Paris? Then read our article on 5 things to do in Paris at Christmas!