If you have spent enough time walking through the streets of Paris, you have probably noticed quite a few works of mosaic street art usually in the form of space invaders. This 'Invasion', as it is called, has been done by one artist who works under the pseudonym Invader. In this article we will be discussing this innovative form of street art.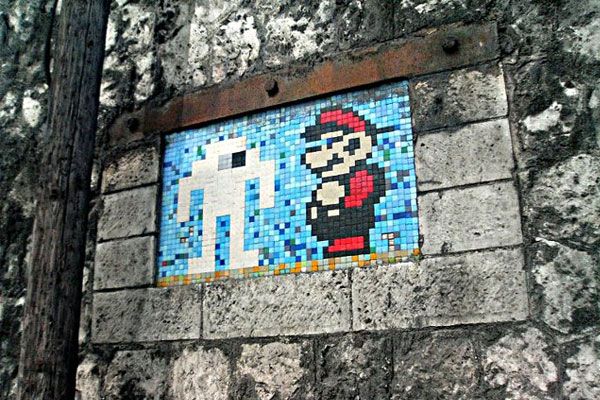 The Space Invader mosaics dotted around Paris, as well as many other major cities around the world, have been made by one artist who identifies as Invader. The idea behind his art is about freeing Art from its shackles, which are museums, galleries and institutions. These establishments are not accessible to everyone, so his work at street level is for the ordinary person so that they are not excluded from artistic expression.

The so-called 'Invasion' in Paris started in 1996 when he installed a mosaic near to the Place de la Bastille. Since the appearance of this first mosaic, he has done lot of traveling and has since put up 3789 in 78 major cities around the world. Invader has published books and maps as guides to the locations of his works. On top of that, there is an app called Flashinvaders where you take a picture of a mosaic, share it and receive points between 10 and 100. Each city has an overall score based on the number of Space Invaders and the number of points they are each worth. Check out the website to see all the cities that have been 'invaded'.

Click here to see our selection of apartments located in Bastille.

Evidently the work done by Invader has been inspired by the video game with the same name: 'Space Invaders'. The name of the pixelated game from the 70s is perfect for the project that he has pioneered as they are quite literally 'space invaders' just like his work.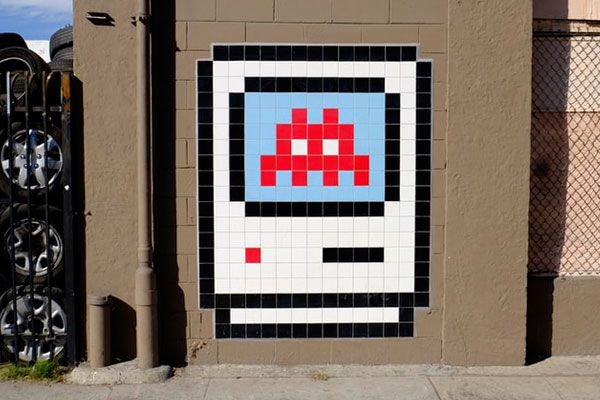 Invader has full control over where he places his mosaics and carefully picks the spots where he is going to install his works so that they are in places that are regularly frequented so that as many people as possible can see them. He picks places where there is a lot of foot traffic.

The artist uses a pseudonym and wears a mask or pixelates his face during interviews to hide his identity so that he can go to his own art exhibitions and not be recognised. Also, he doesn't really have permission to put his works on the walls in most cases, so it is better for him to stay anonymous.

Unfortunately, as his work has become more famous and sought after over time in the art world, some of his works have been stolen from the walls he put them on. Others have been ruined because they are stuck down by cement or effective glues so are impossible to remove, but people that want to sell them on still try.

The artist is still adding to his worldwide portfolio every week and Paris is always under 'Invasion' so keep an eye out for the new mosaics that will inevitably come to Paris. There are already 1423 of his mosaics in Paris and they're not always space invaders either, but you will know them when you see them thanks to their distinct style. He has done other things, like Star Wars characters, Pink Panther at Impasse Delaunay, Mega Man, Spider-Man, Mona Lisa at Louvre-Rivoli, etc.

Click here to see our selection of apartments located near the Louvre.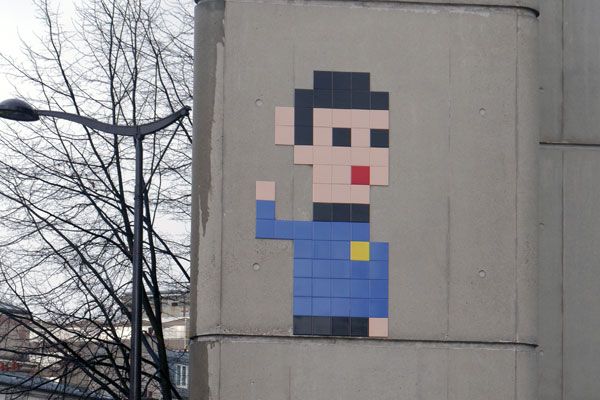 So there you have it, our introduction to the numerous Space Invader mosaics that are found all over Paris, as well as other major cities worldwide. If you have found it interesting, why not download the app, share your 'flashes' and see how good a score you can get! Check out the website where you can find the most recent 'flashes' and download the app for Apple and Android. Good luck in your quest to view all the mosaics the city has to offer, including the new ones.


Are you looking for an apartment in Paris?
Lodgis offers a fabulous selection of furnished apartments for rent. We offer over 7,500 properties, from studio to family apartments with period features, spacious dining and living areas, terraces, elevator access…and just about anything!