Are you planning your next trip to Paris? What is the key ingredient for a successful trip? The weather? Yes, but more importantly? The accommodation of course! The place where you sleep and relax in the evenings is absolutely crucial.

What type of accommodation should I choose?
When planning your trip to Paris, one of the first questions you'll ask yourself is where you'll be staying.
Remember that your experience of Paris and the memories you take home with you will depend on this important choice.

Privacy
What would you rather? A hotel lobby busy with tourists coming and going, people arriving for business meetings, receptionists, concierges, porters, etc…. Or the anonymity of a private building with an apartment exclusively for you and your friends? A "home from home" in the heart of a bustling city.

Authenticity
Do you want to live like a Parisian in a Parisian apartment with a Parisian interior? Or do you want a bland, international setting that leaves little room for emotion?

Space
Enjoy your own space, instead of shared space and a cramped room in a hotel. Once you realize that the minimum surface area required for a hotel room in Paris is just 10.5 m² for a 1-star hotel and 24m² for a 5-star hotel, and that, on average, they're not much bigger than this (15% at most), it's a done deal.

Price

The average price of a 3-star hotel room in 2013 in Paris was 172 euros (source: KPMG) with prices in different areas varying from 100 to 260 euros per night. And that's just for two people!

The famous cuisine…
Would you like to have the unforgettable experience and the priceless opportunity to meet authentic Parisian waiters at each meal? Or to be rushing down to your hotel's breakfast buffet before 10am, still half-asleep, to consume the unappetizing (and expensive) dishes?

Would you prefer to have breakfast at home with Paris' world-renowned croissants (with or without butter) and a "tradition" baguette that you bought on the street corner? And, in the evening, why not have a delicious cheese board, fine wine and a few pastries that you've picked up along the way?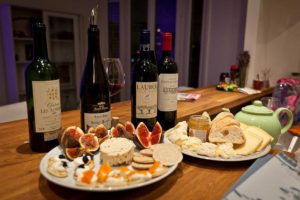 For families with young children or lively teenagers
Would you like to switch off the light in your hotel room as soon as the little ones are asleep and miss out on the full Parisian experience? Or continue reading with a glass of wine in hand for a few hours and, perhaps, open the window to listen to the sounds of the Parisian night?

Why should you have to abide by your kids' curfew?!

Of course, hotels have their advantages: room service, daily housekeeping, restaurants, a mini-bar full upon arrival…

What you want to keep as a memory of Paris is up to you! In several years' time, what will you remember? Which photos will you look at with fondness? Which experience of life in Paris will stay with you the most?

Save money to make the most of experiencing Paris
Once again, money matters. Consider that the average price of an apartment is lower than that of a hotel room, the option to eat meals in the apartment instead of going to restaurants, free wifi access, use of a washing machine instead of pricey laundry services… need we say more?

Renting an apartment is less expensive than staying in a hotel. In Paris, you'll have total freedom to spend your money in museums, boutiques, delicatessans and gourmet restaurants.


Do you want to stay in Paris for longer? Check out Lodgis' selection of apartments to rent for a month or more!