Covered passages that dissect buildings are a typically Parisian style of architecture which started appearing in the 19th century. There are now more than 20 in the city and they are mainly found in the 2nd, 8th and 9th arrondissements. These passages offer a peaceful break away from the hustle and bustle of the streets they are usually found next to. Here are some of our favourite covered passages in Paris.

Passage des Panoramas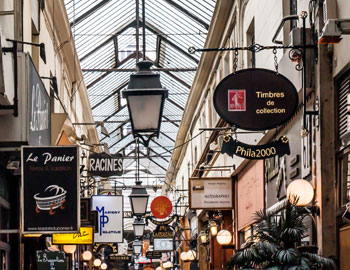 Passage des Panoramas, built in 1799, is the oldest covered passage in Paris and one of the first covered commercial passages in Europe. It links the 2nd and the 9th arrondissements from Rue Saint-Marc to Boulevard Montmartre. Originally, it was a marketplace full of bazaars and souks selling exotic items from the Orient. Nowadays, it is lined by restaurants and bars with all sorts of cuisines like Argentinian, Italian, Japanese, French, etc. It's a great passage to visit for any food lovers. However, it doesn't just offer restaurants. It is one of the best places to visit in Paris for any philatelists as there are some great stamp, postcard and coins shops for collectors.

Address: 10 Rue Saint-Marc or 11 Boulevard Montmartre
Metro: Grands Boulevards (lines 8 and 9)
Open: 6am-12am every day

Click here to see our selection of apartments located near Grands Boulevards

Galerie Véro-Dodat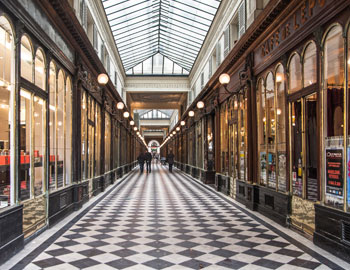 This gallery is situated right in the heart of Paris in the 1st arrondissement next to the Louvre and Palais Royal. Galerie Véro-Dodat is a nice, calm passage which offers a different experience from the busyness of the Louvre and the streets that surround it. It is beautifully decorated with a black and white tiled floor which helps add depth to what's not actually the biggest passage. The ceiling is equally impressive with paintings and inscriptions on it. In the gallery there are two Christian Louboutin stores if you want to do some shopping for high-end footwear. Apart from that, the passage offers other attractive shops, restaurants, art galleries and even a music shop that sells beautiful guitars in which you may bump into famous French musicians. There is a real mix of things to do and see here in this neoclassical styled gallery.

Address: 19 Rue Jean-Jacques-Rousseau or 2 Rue du Bouloi
Metro: Palais Royal – Musée du Louvre (lines 1 and 7)
Open: Monday-Saturday: 7am-10pm (closed Sunday)

Click here to see our selection of apartments located near the Louvre and Palais Royal

Galerie Vivienne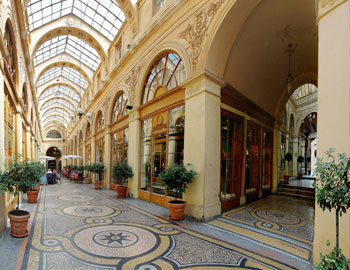 This pretty passage was opened in 1826 and has an elegant mosaic flooring as well as many sculptures and paintings. Galerie Vivienne is full of luxurious brands, for example it was formerly home to the first Jean-Paul Gaultier shop in Paris. So if you want to improve your wardrobe while in one of the world capitals for fashion, look no further. However, you won't be able to leave with any cheap purchases. This gallery is not all about high-end fashion shopping. You will also find cafes and quirky book stores selling ancient books. Also, there is a wine store called 'Legrand Filles et Fils' where you are bound to find a great bottle of wine.

Address: 4 Rue des Petits-Champs, 5 Rue de la Banque or 6 Rue Vivienne
Metro: Bourse (line 3)
Open: Monday-Saturday: 8:30am-8:30pm (closed Sunday)
Passage du Grand Cerf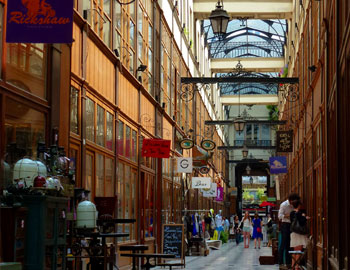 This arcade was opened in 1825 on the site of the old Hôtel du Grand Cerf which is why it has its name. With its tall ceiling made of metal and glass, the arcade feels bright and spacious. The actual passage is filled with charming shops selling a variety of things, like jewellery, furniture and clothes. It is one of the most beautiful covered passages to discover in Paris and is a great place to find some obscure gifts or even knick-knacks for your house. An interesting fact about this place is that some of the storekeepers in this arcade accept Bitcoin as payment.

Address: 145 Rue Saint-Denis or 8/10 Rue Dussoubs
Metro: Etienne Marcel (line 4)
Open: Monday-Saturday: 8:30am-8:30pm (closed Sunday)
Passage Choiseul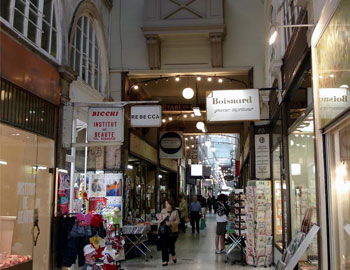 The last covered passage on this list has a rich history and is a registered historical monument. It was built in 1825 and was home to the influential novelist Louis-Ferdinand Céline who spent part of his childhood living there. It got revamped and has been accessible to the public since summer 2013. The impressive, new glass roof they installed has helped it return back to its former glory. The passage is famous for its boutique restaurants, book shops, art galleries and a bar à sieste which is literally a sleep bar, so if you want to take a break from shopping, this is the place for you.

Address: 40 Rue des Petits-Champs or 23 Rue Saint-Augustin
Metro: Quatre-Septembre (line 3)
Open: Monday-Saturday: 8am-8pm (closed Sunday)


This is just a select few of the many beautiful covered passages in Paris. Seeing as they are all situated in a similar area and are free to visit, why not check out some of the other passages after checking out the ones on our list. They all offer something different to discover, but they all equally remain quintessentially Parisian.


Are you looking for an apartment in Paris?
Lodgis offers a fabulous selection of furnished apartments for rent. We offer over 7,500 properties, from studio to family apartments with period features, spacious dining and living areas, terraces, elevator access…and just about anything!