Spring and sunshine have arrived and you'd quite fancy an « apero » with your friends under Paris' starry sky ? There's just one problem… All of the terrace bars are full ! So, why not have a picnic ? Here are some tips to make the most of it…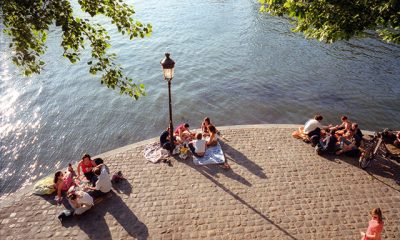 Things to bring for a perfect Parisian picnic
You already know where to buy the best baguette in Paris. What else do you need to bring for your first Parisian picnic? Voilà: some suggestions:

a fresh bottle of rosé
cream cheese and French cheeses (the smellier, the better!)
cherry tomatoes
crisps and crackers
biscuits and candy
You see, picnicking in Paris isn't exactly a Master Chef competition, is it? 😉 It's more a way of saying : "ok, we've been through 5 months of winter, so now we want to enjoy every single ray of light and life until the next one. And, on a budget".
Best spots for a picnic in Paris
All of the parks in Paris are good for picnics with friends, and I personally love:

When I want to kill two birds with one stone (enjoy a picnic with my friends and meet guys without having to go to a disco), the Seine quay is perfect-the golden stretch runs from Musée d'Orsay down to Saint Michel. You can bring your own food and drink, take off your shoes, sit on the river bank and watch the boats of Japanese tourists pass you by. I also love the quay because I can admire all at once the extraordinary beauty of multiple landmarks , such as the Grand Palais, the Pont des Invalides (Alexandre III Bridge), Notre Dame Cathedral, the Louvre…

You'll find plenty of nice bars along the quay between Musée d'Orsay and Concorde (however, I prefer to bring my own food and drink as they are quite pricey and there are always long queues after 6pm). Sometimes there is even music for dancing.

If you go down the quay as far as Bercy, you will find some lovely restaurants disguised as peniche boats.


Good to know: "Picnic season" usually begins around March. To check whether you'll be in luck next weekend and the weather will be picnic-friendly, this is an accurate site for the weather forecast: Météo de Paris.