During your stay, you'll be looking for things to do in Paris, right? Wondering how to get around the city and don't know where to begin? Paris' metro system is definitely the quickest and most efficient way to travel around the city, not to mention the cheapest! Let Lodgis guide you through the best Paris metro lines for sightseeing!

Line 1
Line 1 starts and finishes with La Défense, a famous business district, through the Charles de Gaulle Etoile station next to the Arc the triomphe, then the Champs Elysées, Place de la Concorde, the Louvre, Châtelet (where you can find the world famous modern art museum, the Pompidou Center), the Hôtel de Ville, Place de la Bastille, Place de la Nation, the Chateau de Vincennes (find out more in our post Episode 1 : from Chinatown to the XIVth century castle of Vincennes).

As we explained in Tips and tricks…. All about the Paris metro', line 1 is the oldest metro line and was opened on July 19th, 1990. Historically, it is the most commonly used line as it links the largest number of Parisian monuments!

Line 4
Line 4 starts at Porte de Clignancourt, crosses Château Rouge (near the Sacré-Cœur on the Butte Montmartre), Châtelet and Cité, where you can access the Ile de la Cité. Surrounded by Pont neuf and Pont Marie, this place is incredibly romantic and recommended for admiring a beautiful sunset in Paris. The following station, Saint-Michel station, is located next to Notre Dame, before line 4 continues to Saint-Germain-des-Près and Montparnasse and its amazing tower.
Crossing Paris from North to East, line 4 was created a hundred years ago. It is the only metro line that connects to all the other lines (metro and RER). It is the 2nd most commonly used line after Line 1.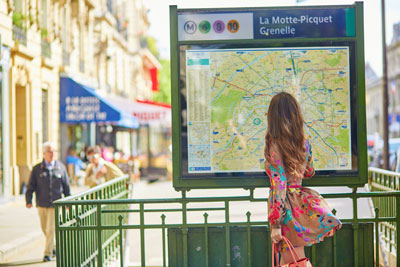 Line 7
Line 7 passes by Place d'Italie near Chinatown, Pont Marie, Châtelet, the Louvre, Opéra (The Opera Garnier) and by the Galeries Lafayette department store. Line 7 crosses Paris northeast to southeast.

Line 9
Line 9 joins many places where famous monuments are located, such as the Trocadéro, Alma Marceau (Pont de l'Alma), Franklin D. Roosevelt (on the Champs Elysées), Chaussée d'Antin-La Fayette (next to the Galeries Lafayette department store), République (near the Canal Saint- Martin) and Nation.
Line 9 is one of the longest metro lines and one of the most used in Paris. It links the southern suburbs to western Paris. It is ranked 4th of all the Metro lines by the RATP (Régie Autonome des Transports Parisiens).

Line 13
Line 13 serves important stations particularly for tourists, such as Montparnasse Bienvenüe, Invalides, Champs-Elysées-Clemenceau, Saint-Lazare, Place de Clichy and the Basilique Saint Denis.
Line 13 is the longest metro line in the Parisian network (24.3km). The line links the northeastern and northwestern suburbs to southern Paris. It is one of the most used lines by Parisians with 600 made trips a day.


Line 14
Line 14 will take you to key spots like Saint-Lazare, Madeleine, Pyramides, Châtelet, Cour St Emilion, and the Bibliothèque François Mitterrand.
Line 14 was the first driverless metro line. It is the newest line on the Paris Metro network. Line 14 runs across Paris from northwest to southeast.

Line 12
Line 12 joins Montparnasse Bienvenüe, Rue du Bac, Assemblée Nationale, Concorde, Madeleine, Saint Lazare, Pigalle and Abbesses (in the heart of Montmartre).
Line 12 links northern Paris to southwestern Paris.

Line 8
Line 8 joins Bastille, République, Opéra, Madeleine, Concorde, Invalides.
Line 8 exclusively serves southern Paris. It runs through eastern and western Paris. It is the first metro line to cross the Parisian ring road to link the new Ile de France districts to the capital.


Line 5
Line 5 mainly serves Place d'Italie, Bastille and République.

Line 5 is one the oldest Metro lines. It serves the Eastern Paris area.

Line 2
Line 2 serves the stations of Nation, Père Lachaise (the famous cemetery), Anvers (the ideal station to visit the Sacré-Cœur and the Butte Montmartre), Pigalle where you can find the famous Moulin rouge, Charles de Gaulle Étoile (Arc de Triomphe).
Line 2 was the second metro line to be built in the capital. Crossing Northern Paris on a semi-circular trajectory, line 2 was opened in 1903 and is 12.4 km long.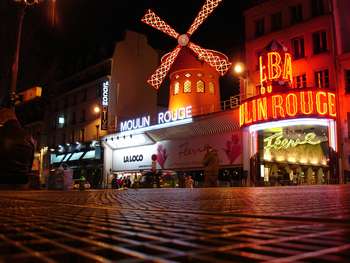 Line 6
Line 6 crosses serves Charles de Gaulle Étoile (Arc de Triomphe), the Trocadéro, Bir Hakeim – Champs de Mars (Eiffel Tower), Gare Montparnasse and Nation.
With a semi-circular path like line 2, line 6 crosses southern Paris. With 45% of its rail track above ground, using line 2 means  you can enjoy a spectacular view of the Eiffel Tower when the train runs between Passy and Bir Hakeim stations over the Seine.

Line 3
Line 3 serves Saint Lazare, Opéra, Bourse, République, Père Lachaise (the biggest cemetery of Paris).
Line 3 links the Western suburbs (Levallois) to Eastern Paris. It is a heavily used line because it crosses the Saint Lazare, Grands Magasins and Opera neighborhoods, and the Levallois and Bourse business districts.

Line 10
The most important stations reached by Line 10 are Gare d'Austerlitz, Odéon (Saint-Germain-des-Prés), Cluny La Sorbonne (Quartier Latin), Sèvres-Babylone (with its famous Bon Marché).
Line 10's rail track and route have changed a lot over the years. Formerly, line 10 was lines 7, 8 and line 13. It crosses the Seine's left bank in South Paris.

Line 11
Line 11 only serves these three famous stations: Châtelet, Hôtel de Ville, République.
Line 11 links central Paris to northeastern Paris' outskirts (Saint Denis). It is the newest line and was created to replace the funicular railway, which was closed in 1924.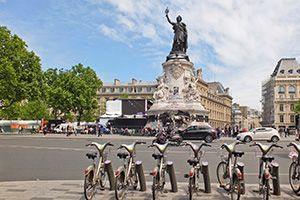 Did you know that Lodgis offers a range of apartments located near the metro line of your choice? To do so, you just need to click on "our furnished rentals" and on the left side you'll see "metro line", select the line of your choice, click on "search" and you're ready to go!

Did you enjoy reading this post? Then you will certainly be interested in our previous one on "Paris metro maps: from the traditional to the unique"!