Toulouse is beautiful city found in South-West France near the border with Spain. It is nicknamed 'La Ville Rose' (the pink city) due to the clay bricks that make up most of its buildings and make it an extremely picturesque city to visit. The city itself has a lot to offer in terms of history and culture with museums, galleries and monuments, as well as more relaxing activities like parks, restaurants and bars which offer some of Toulouse's famous speciality dishes. Here is our selection of just a few things to do during your time in this great city.

Place du Capitole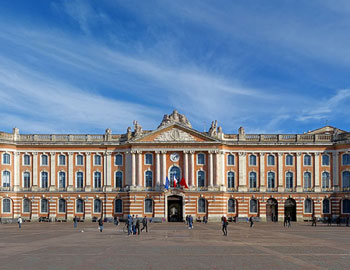 Situated in the heart of Toulouse, this town square showcases the classic architecture of Toulouse. On the town square is the majestic Capitole building, built in the 12th century, which is home to the town hall, a theatre and rooms of state. Some of the historic rooms of the Capitole are open to the public on the first Sunday of every month. The Salle des Illustres was labelled as a Monument Historique in 1994 due its grandeur and beautiful works of art. The square is quite simply breathtaking with the Capitole's stunning brick façade that is beautiful and immense in person.

Address: Place du Capitole, 31000 Toulouse

Basilica of Saint Sernin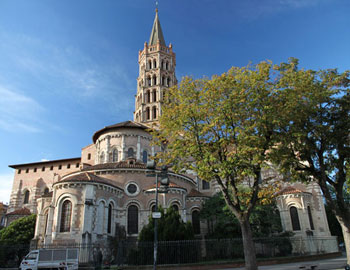 The Basilica of Saint Sernin is a landmark of Toulouse and has been labelled one of the greatest churches in France. This Romanesque style building is located 5 minutes away from the town square and was built in the 11th and 12th centuries. It is the largest Romanesque style building in Europe, if not the world. It was constructed with red bricks, a typical feature of Toulouse. It's a stunning piece of architecture, the interior design and art are superb with many Romanesque sculptures found there. In 1998, the basilica was added to the list of UNESCO World Heritage sites as it is a key part in the pilgrimage to Santiago de Compostela.

Address: Place Saint-Sernin, 31000 Toulouse

Cité de l'espace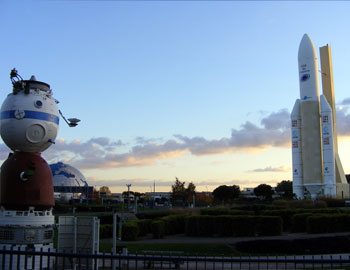 Cité de l'espace is a scientific discovery centre that opened in 1997 and is located on the eastern outskirts of Toulouse. Toulouse is known for being Europe's space capital, which is why the city has a scientific centre that is focused on space and the conquest of space. You can find full-scale replicas of rockets and space stations, like the famous Ariane 5 rocket and the MIR space station. There are also two planetariums, interactive exhibits and an IMAX cinema. Cité de l'espace is a great place to visit for young and old people alike as there are parts to the centre that would appeal to anyone and everyone can learn something new.

Address: Avenue Jean Gonord, 31500 Toulouse

Jardin Japonais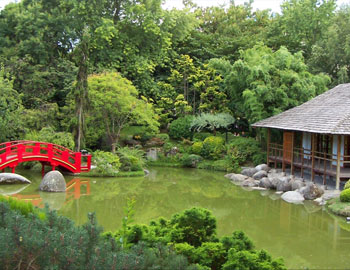 The Jardin Japonais is inspired by the gardens you would find in Kyoto, Japan and this garden is the epitome of Zen. You will find an array of beautiful and exotic flowers in the garden that release some lovely scents and make it a very vibrant and scenic garden. There is also a bright red moon bridge, a stone garden and a tea pavilion. On top of all that, the garden is home to a big variety of wildlife that reside here in the lake or in the trees, like koi fish, frogs and birds. The garden is free to visit and there are many benches and seats to relax on during a nice day so that you can take in all that this quintessentially Japanese garden in the South of France has to offer.

Address: Jardin Compans Caffarelli, Boulevard Lascrosses, 31000 Toulouse

Fat Cat
The last activity on this list is a change of pace from the other more cultural activities. Fat Cat is a cocktail bar found a stone's throw away from the Place du Capitole on rue de Rémusat. It was opened in 2015 by two mixing maniacs and is now THE cocktail bar to go to in Toulouse. This bar has a cool atmosphere, a sharp soundtrack, armchairs lined in velvet that are ideal for relaxing, and also it is dimly lit which creates an ambient setting. The drink menu is vast with countless cocktails on it, as well as a slate that shows the creations of the moment. It turns into a piano bar every Wednesday and has a DJ set once a month. Fat Cat is a bar that offers an extremely relaxing way to spend your evening amongst good company while sipping on a tasty cocktail.

Address: 4 Rue de Rémusat, 31000 Toulouse


These are just a small selection of things to do during your time in the city of Toulouse. Try to explore the city as much as you can as it's not the biggest in France, but still has plenty to offer. Things like the Canal du Midi and the Garonne river are also great to visit. Keep an eye out for more articles on Toulouse about where the best place to live for you is and also which are the best bars and restaurants to visit in this major French city.


Are you looking for an apartment in Paris?
Lodgis offers a fabulous selection of furnished apartments for rent. We offer over 7,500 properties, from studio to family apartments with period features, spacious dining and living areas, terraces, elevator access…and just about anything!