Often neglected in favor of other neighborhoods like the Marais, Bastille or the Latin Quarter, the 12th district yet deserves to be known.

If you want to discover a rich and diverse neighbourhood, you simply must pay a visit to the 12th!
What a beautiful neighborhood, full of diversity with its art, architecture, culture and green spaces …

Located in the 12th, for example, is the prestigious École Boulle, a world-famous art school. There are also numerous galleries and arts and crafts studios under the arches of the Daumesnil.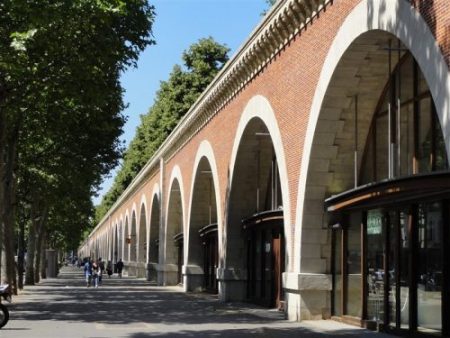 You might like to visit interesting museums like the Museum of Fairground Arts, the Museum of the History of Immigration, or the famous French film library, designed by the architect Franck O Gehry.

Architecturally, the 12th district is undeniably outstanding … Start your walk through the magnificent Gare de Lyon and continue your stroll whilst admiring the arches of the Daumesnil.

A little further on, you can marvel at the sublime Félix Eboué square, the old Daumesnil square.

And finally, complete your journey by looking up to admire the splendid Church of the Saint Esprit.
Some tips for walks, relaxation, going out … in Paris 12th.
The 12th district is renowned for its parks, so if you want to find a pleasant spot for a nap or a picnic, Lake Daumesnil is always perfect. You can go on boat trips, pony rides, or rent bikes in the Bois de Vincennes.

Lovers of walks and green spaces, let me invite you to explore the Promenade Plantée, also known as the Coulée Verte or Green Corridor, that leads to the gardens of Reuilly as far as Bastille; you would never have guessed it was there!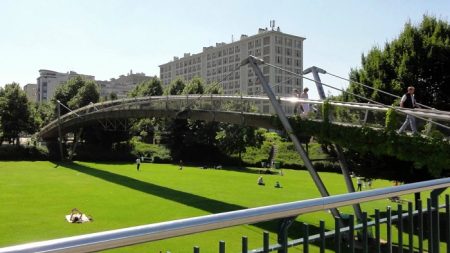 After leaving the Cour Saint-Emilion, famous for its boutiques, restaurants and cinema, you might also consider a relaxing stroll in the gardens of Bercy.

One thing is for sure, the 12th is a very rich and diverse district of Paris where art, culture and architecture are closely intertwined, and I hope that these lines will inspire you to go there.