Not sure how to spend your Sundays in Paris? Looking for an original activity? Lodgis invites you to discover the Flea Market of Saint-Ouen in Paris, which is an unusual, historical place that's also known as the "Puces de Clignancourt".

About the Saint-Ouen Flea Market
After the Franco-German war in 1870, the rag pickers who combed the town for objects that they could resell settled in Saint-Ouen next to Porte de Clignancourt.

In 1885, the city of Saint-Ouen made it compulsory for retailers to pay taxes for letting their premises. This led to the official creation of the "Marché aux Puces".

Nowadays the Flea Market of Saint-Ouen is the 4th most visited tourist attraction in France and the biggest antiques market in the world. With its quaint atmosphere and unusual objects on offer, the flea market attracts around 5 million visitors each year. You can buy things from almost any era or place in the world.

Does living near such a fascinating place as this sound interesting to you? Then don't hesitate to check out our range of furnished rentals in the Seine Saint-Denis!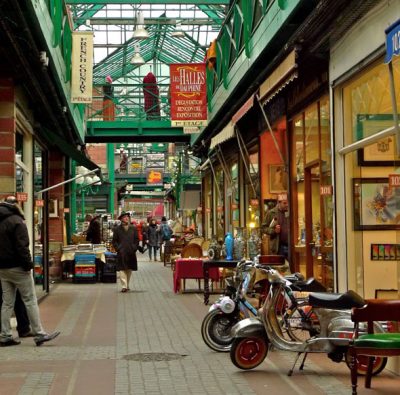 How is the Flea Market of Saint-Ouen organized?
The Flea Market spans 7 hectares and consists of 14 different markets. It promises countless surprises!
The Antica Market
Located in a stylish and elegant gallery, this market has a dozen stands and offers paintings, bronze, porcelain and Art Deco style goods.

The Biron Market
220 Antiques and Art dealers offer luxury goods, jewelery, furniture, paintings, mirrors, light fixtures.

The Cambo Market
This little market consists of around 20 different stands across two floors, where you'll find high-quality restored furniture and works of art (ceramics, paintings, antiques, old-fashioned musical instruments).

The Dauphine Market
This is the oldest and largest market of the Saint-Ouen Flea Market, with 180 merchants spread across two floors. You can find classic antiques dating back to the 18th and the 19th century, items from the 20th century (Art Deco style, industrial art) downstairs and vintage clothes, vinyl records, antiquarian books, it's just like a junk shop!

The Jules Vallès Market
This market is a traditional and typical flea market. You'll come across lots of unusual items, like movie posters, ancient weapons, books, records, and military equipment.

The Le Passage Market
It spans 1000m² and links Rue Lécuyer to Rue Jules Vallès. There are a variety of items available for sale here: antique and contemporary objects, trinkets and ornaments (knickknacks), books, clothes. The market is mainly geared towards vintage clothes.

The Malassis Market
This covered market will send you back in time with its original, innovative architecture. You can find antiques dealers, decorators, themed shops, collectors and jewelry.

The Malik Market
This market is named after an Albanian prince who settled in Saint-Ouen in the early 1920s. You can find sportswear and trendy clothing.

The Vernaison Market
A genuine flea market, it offers the largest number of stands: furniture, ancient toys, glassware and vintage clothing.

The Paul Bert Market
This market is popular with decorators across the world and offers industrial and antique furniture.

The Serpette Market
This market has an upper-class clientele and offers high-end antiques (silverware, table decorations/tableware, industrial furniture).

The Entrepôt Market
The market offers unique items: spare parts, staircases, bookcases, woodwork, castle gates.

The L'Usine / Lécuyer Market
This caters to professionals (exporting goods abroad) and is closed on weekends.

The Rues Market
This is like a garage sale, where people lay their goods out on the ground. You'll also find some unusual items throughout these stands and boutiques, with vintage clothes and furniture.
Some practical information
The Saint-Ouen Flea Market is located at 124 rue des Rosiers, 93400 Saint-Ouen and its opening hours are:
Saturday, from 9 am to 6 pm
Sunday, from 10 am to 6 pm
Monday, from 10 am to 5 pm
How to get to the Saint-Ouen Flea Market?
You can get there:
By metro: line 4 station Porte de Clignancourt; line 13 station Garibaldi
By bus: lines 56, 60, 85, 95, 137, 166, 255 ; PC3 stop l'Audonienne Saint-Ouen
By car: Ring road: Porte de Clignancourt or Porte de St-Ouen, "Boulevards extérieurs" (outer boulevard) direction Porte de Montmartre


Find further information on the Saint-Ouen Flea market official website.


Tourist Office

For further information about tourist attractions and local activities, you can visit the tourist office, which offers guided tours of the Saint-Ouen Flea Market. It is located in 30, avenue Gabriel Péri, 93400 Saint-Ouen

Tél.: +33 (0)1 40 11 77 36
E-mail: contact@marcheauxpuces-saintouen.com

Whilst Paris is full of interesting and attractive places to visit (museums, cathedrals, gardens etc.), visiting the Flea Market of Saint-Ouen will be an unforgettable experience! It is a real gold mine for vintage and antiques lovers and a true inspiration for decorating your apartment.

Some items, such as antique furniture, can only be found at the Flea Market and will enable you to furnish your apartment in an original way.
Around the market, you can also visit the 20 very popular restaurants and cafes.
With a friendly, convivial atmosphere, you will certainly enjoy this truly unique experience.

Feeling like exploring another original and enchanting place? Then we recommend that you read our post on Grands Boulevards – Montorgueil!