On Sunday in Paris…
I've been out the night before and I need to plan Sunday lunch. Bed is calling me … Hop, hop, I try motivate myself …
While baking a cake, I suddenly realize some ingredients are missing for my recipe. Arffffff !!! I can't understand why I didn't make a list!

What should I do? Will there be no afternoon snack? NO … "Zen" (what we say for " keep cool in Paris").
Here are some solutions … but you'll have to move your ass 😉

Which stores are open on Sundays in Paris?
Most Franprix supermarkets; for example, are open on Sunday morning.

There are also, in Belleville and in the 13th arrondissement of Paris, Asian supermarkets called "Tang Frères". Most of their products imported from Asia, but you will find French products. It will "come to your rescue!"

The Daily Monop, 59 rue Montorgueil (75001) is a small Monoprix grocery store open on Sundays until 9 p.m. You can check out their website www.monoprix.fr for a complete list of stores that are open on Sundays. Simple and amazing.

Which stores are open in my Parisian neighborhood on Sunday?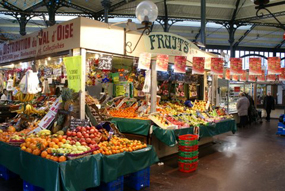 If you don't feel like moving, especially on a Sunday, there are also convenience stores that stay open and sell food and drink. Be careful with just the expiry dates on products and be prepared to pay a higher price! Whatever happens, you're going to have to leave your apartment, but there are tons of fruit and vegetable stores in each neighborhood, so you're bound to have one nearby.

For the "gypset people" (cf. Julia Chaplin), there's nothing better than going to the local markets. This blend of delicious smells and products draws in the Parisians.
By the Gare de l'Est, for example, the site of the former 17th century Saint Laurent fair, you'll find the covered market of Saint Quentin. Easily accessible from the Gare de l'Est, you can taste products from Brasiuuu, Portugal, cheese, ham, etc.

To find your nearest market click the following link: http://meslieux.paris.fr/marches