This is an article that, during this time of extreme heat, will do you good. In this heat wave, most Parisians looking to cool off, relax, enjoy the sun in the best of ways. But the real question is: is this possible in Paris? How? Where? Are there any beaches in Paris? Can you swim at Paris? Lodgis tells you everything.

Paris waterpark: Aquaboulevard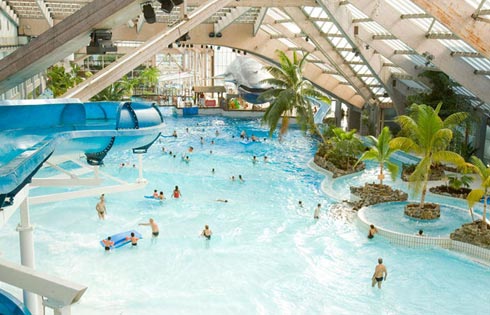 A water park when it's hot, what could be better? Relaxation, water slides, picnics with family or friends, and unheated swimming…

The only water park (literally) in Paris is the Aquaboulevard. Both say it may get crowded. With no less than 7000m² to swim in, there's a wave pool, an outdoor pool, ponds dedicated to fitness, hammam, sauna, Jacuzzis, 11 slides (7 indoor and 4 outdoor) and a verdant picnic area…

This is the rendezvous of the summer, and more generally when it's sunny and hot, because in these times you just wanna get in the water. Nothing better than enjoying the sunshine.

Leisure areas (or leisure islands)



When we think of Paris, we think of concrete. But there is not actually that much; far from it! You will find, admittedly a little away from the center of Paris, but staying in Île-de-France, that there are endless places for relaxing, sunbathing, having fun, swimming.
Natural or artificial lakes, designer pools, wave pools … and many other activities are on offer (outdoor attractions, water sports, sports equipment, etc.).

This is the main reason why leisure centers, also called recreational island, were created.

It's a long list: among the best known is the leisure center of Cergy-Pontoise, Etampes, Jablines Torcy…
They are listed on the website of "Île de loisirs".

Public Swimming pools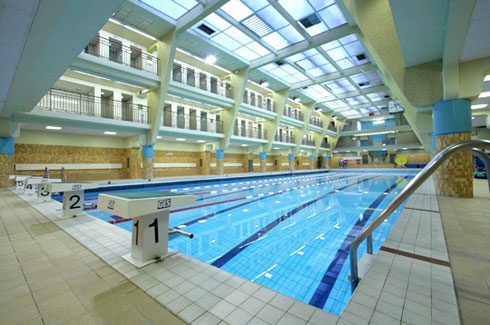 Many municipalities have at least one pool or several.

There are former Olympic swimming pools, indoor and outdoor pools (some pools are uncovered: their roofs can be opened when it's hot weather), rest areas, water equipment: water slides, diving boards, etc.

You are spoiled for choice with this list of swimming pool… Swimming in Paris (or throughout Île-de-France) in a public pool is really very easy.

Here is a list of all the public pools in Paris and Paris Île-de-France: http://www.guide-piscine.fr/ile-de-france/

Special Summer Events: "Paris Plages"…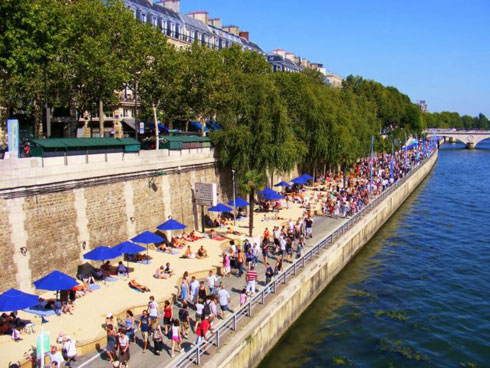 During the summer, the city of Paris and its numerous nearby municipalities strive to offer their residents pools (for a swim in Paris when not on vacation, for example), or at least, opportunities for outings, activities and outdoor fountains to enjoy the sun.

The best known of these "special summer" programs is "Paris Plages". The River Seine's quays (at least a part of them) are covered with sand, umbrellas and sunbeds, and offer activities and games…

Similarly, but at a local level, the neighboring municipalities of Paris and also offer "beaches" (with water games, outdoor games …) to the residents, such as the Bajo Beach (organized by the city of Bagnolet), Meaux beaches (organized by the city of Meaux), etc.

And yes, beaches in Paris do exist! Make the most of having a beach in Paris! Maybe one day it will be possible to swim in the River Seine?

Until then, enjoy your Parisian swim!