Paris is a great place for fans of urban sports. With many iconic landmarks to discover and with more and more cycle lanes being introduced, skateboarding is becoming an easier way to travel and explore the city. Here are some of our suggestions of where to skateboard in the French capital.

Rue Léon Cladel
This discreet skate park in the 2nd arrondissement takes up a whole street near to the Bourse that joins Rue Réaumur and Rue Montmartre. It was opened in 2012 specifically for skating and is now definitely a hidden gem in the skating scene in Paris. The street is a real obstacle course that's home to curbs and pyramids to practice tricks on. It is not that well-known so it is a good place to go if you are new to skating and you want to practice away from the crowds. As it's just one street, it's not the biggest skate park out there but it will keep even the most experienced skaters on their toes due to the features it has.

Click here to see our selection of apartments located in the 2nd arrondissement

Place de la République
Place de la République is one of the largest pedestrian squares in Paris. Ever since its inauguration in 2013, it has been a well-loved place for skaters. It is found on the boundaries of the 3rd, 10th and 11th arrondissements, so its central location is ideal and its area of 3.4 hectares means you have a lot of space to practice your skills. There are even some ramps and pyramids at your disposal which allow you to show off your tricks in front of passers-by. The flat, smooth surface of the square makes it an easy place to practice.

Click here to see our selection of apartments located near to Place de la République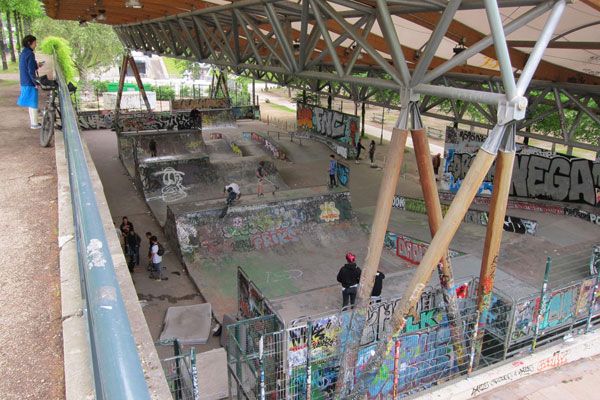 Skate park in Bercy
The skate park in Bercy is one of the best known places in the city for skating, for a while now skaters have been used to going to this skate park. It's the second biggest skate park in Paris at 800m2 and is packed with all the equipment and facilities a skateboarder could want, like a quarter pipe, mini ramps and plenty of curbs. It's the perfect place to go for experienced skaters. Street artists also frequent the area and have spray painted the skate park with graffiti. As they regularly go there, the artwork is always changing giving it a really authentic urban touch. The Bercy skate park is also covered by a roof so you can still come here to practice when it's raining.

Click here to see our selection of apartments located in Bercy

Palais de Tokyo
An art deco museum is certainly not the most conventional place to go skateboarding, however Palais de Tokyo is actually ideal for it. The huge, smooth marble courtyard that extends from the museum down to by the Seine is perfect for skating. It's also a beautiful place to skate as you are met by stunning views of the Eiffel Tower, across the Seine. The only problem with this location is that it is a very popular tourist attraction, so it can get very busy, especially in summer. However, it's still a really good place to visit and if there are no crowds, the fountain basin turns into a great place to practice skateboarding.

Click here to see our selection of apartments located in the 16th arrondissement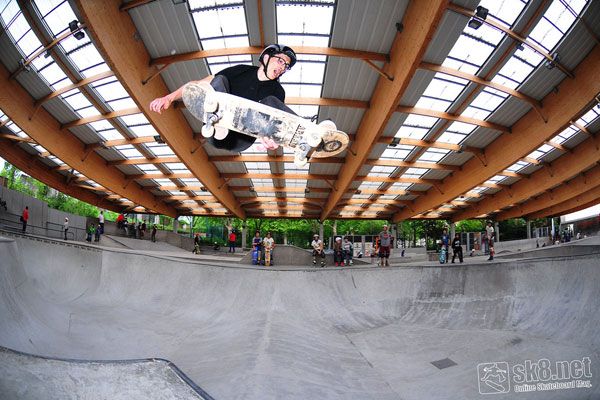 EGP 18
The Espace de Glisse Parisien, or EGP 18 to those in-the-know, is home to the biggest skate park in Paris, and the whole of France for that matter, with an area of 3000m2 filled with equipment. This spot offers cutting edge facilities like bowls, a vertical wall and snake run. The skate park is also permanently covered. As it is so big, it's split into to two areas, one for beginners and one for advanced riders, so whatever your level, why not come here to practice your tricks and skills. Access to it is free as well, all you have to do is wear a helmet. For beginner skateboarders, there are initiation classes offered for which you can rent equipment and protection to try your hand at the new skill.

Click here to see our selection of apartments located in the 18th arrondissement


As you can see, skateboarding is not limited to just skate parks in Paris, you can even skate in museum courtyards and in public squares. These are some of the best places to skateboard in Paris. All the options offer a different skating experience so try to check them all out, if you can, to get a good feel for skateboarding in the French capital.


Are you looking for an apartment in Paris?
Lodgis offers a fabulous selection of furnished apartments for rent. We offer over 7,500 properties, from studio to family apartments with period features, spacious dining and living areas, terraces, elevator access…and just about anything!