When living in a rental property, it can be hard for tenants to make the space feel like their own. You might be stuck with furniture that you would never choose for yourself, or perhaps your landlord has a fondness for bright red kitchen tiles… But if you're going to be living in a rental property for a while, it's important to make the space suit your personal style. And you don't need to be a professional interior designer to make the space your own; we have some easy, low-cost tips and tricks that will allow you to decorate your home without falling out with your landlord.

1. Paint the walls
Did you know: you are allowed to paint the walls of your rental property as long as your paint them back to their original colour before you move out. Obviously this is an option better suited to longer term rental contracts, but a fresh wall colour can make a lot of difference. Why not create a feature wall in a different colour to the rest?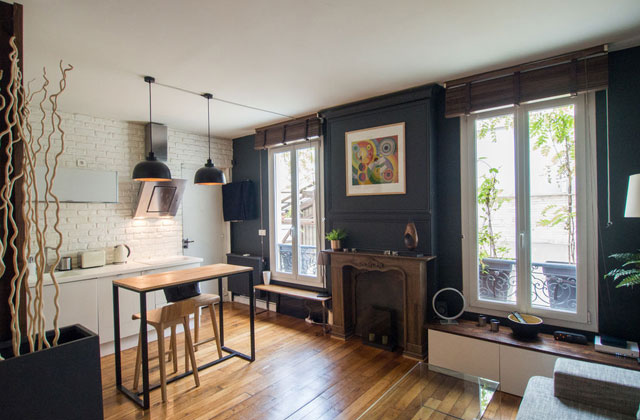 Want to rent this stylish space? Click here!

2. Stick on wallpaper
Stick on wallpaper is one of our favourite new discoveries. Make a feature wall or wallpaper the whole place; it's easy to stick up and peals right off when you're moving out! It's easy to buy it on Amazon, and is a really good way to add a personal touch without breaking the bank or losing your deposit.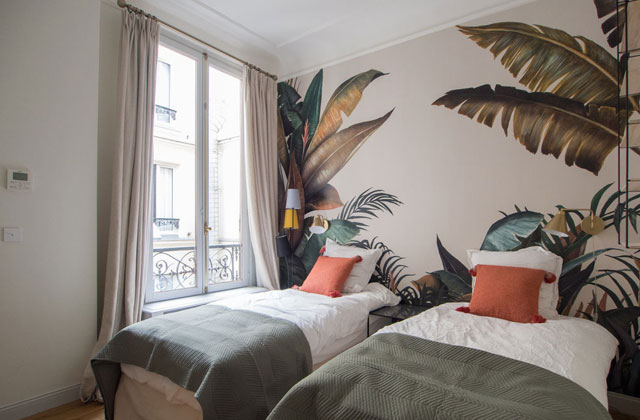 Want to rent this stylish space? Click here!

3. Stick on tiles
Stick on tiles are a great solution to use to spruce up any room, especially a kitchen or bathroom that needs a little TLC. You can add a splash of colour, a pattern, or keep things simple and minimalistic; whatever your style, these can work wonders to create a space that feels like yours!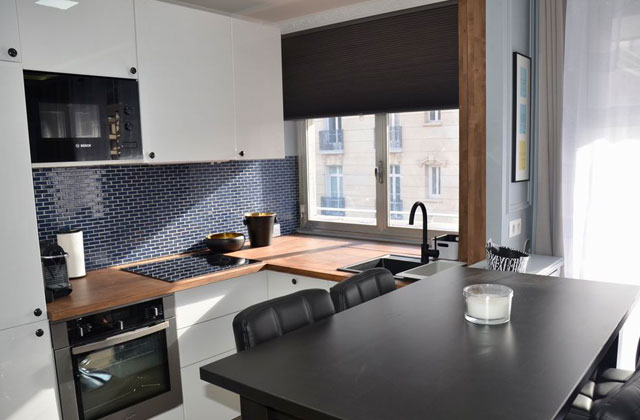 Want to rent this stylish space? Click here!

4. Use contact paper
Speaking of stick on wallpaper and tiles, contact paper is another great temporary solution to hiding ugly floors, furniture, walls, ceilings… Whatever you feel like! This stick on paper can cover almost anything, and is easy to peal off again. Ugly kitchen floor? Contact paper. Not a fan of your coffee table? Contact paper. Want to create a colourful entry way on a budget? Contact paper!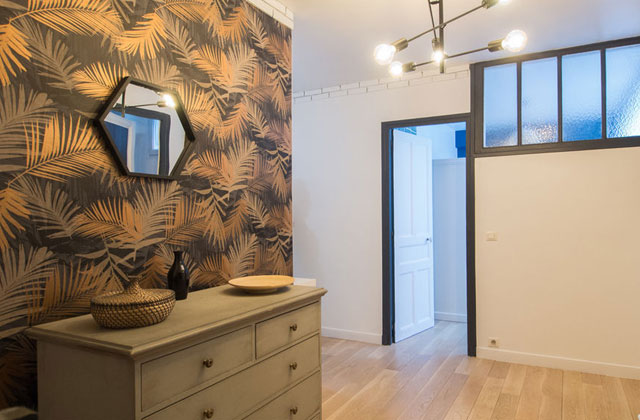 Want to rent this stylish space? Click here!

5. Plant plants
It's no secret that plants are a great way to add a touch of greenery to your home, especially when you're living in the middle of a city. Not only will they clean up the air, but they make very good, easy and low-cost ornaments. Our favourite types to use are cactuses and Swiss Cheese plants!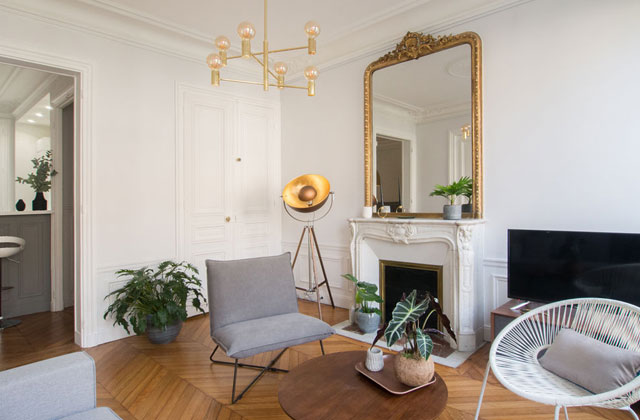 Want to rent this stylish space? Click here!

6. Use command hooks for hanging
Drilling holes in the walls can be a sure fire way to lose a deposit, but command hooks provide a very good alternative. They are designed to stick to walls without leaving a mark, and are surprisingly strong. They can be used to hang everything from pictures to kitchen utensils, all without leaving a trace.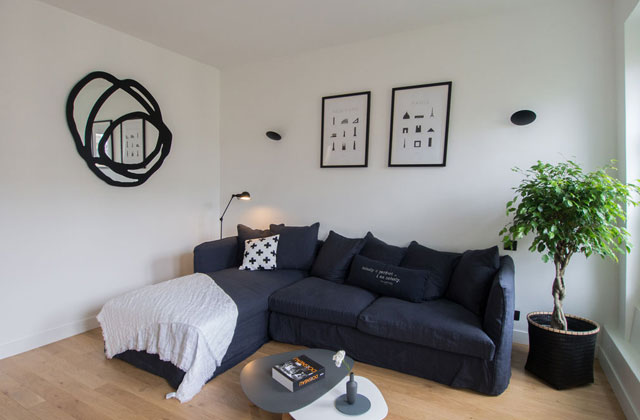 Want to rent this stylish space? Click here!

7. Put down rugs
Adding a rug or two to your rental property is a great way to add a splash of colour or make the space more cosy without having to put in a whole carpet. Instead of picking up an expensive runner that perfectly fits your entry way, why not pick up several rugs cheaply from a thrift store and line them up along the hall way?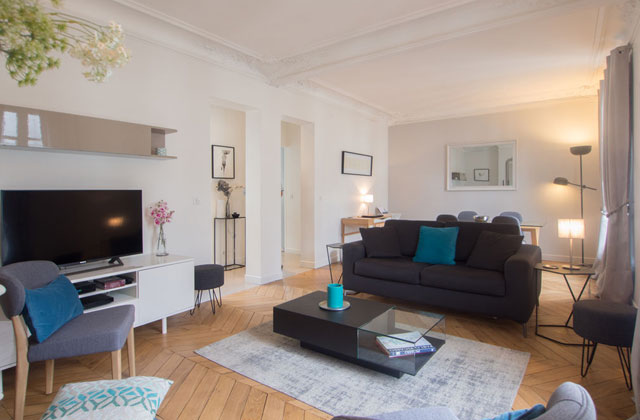 Want to rent this stylish space? Click here!

8. Add throw cushions
Throw cushions are a great way to add a touch of colour to a living space, and significantly cheaper than buying new furniture. You could use a bright colour to distract from a plain sofa, while also adding comfort. If you have some material left over from curtains, why not use it to make matching throw pillows!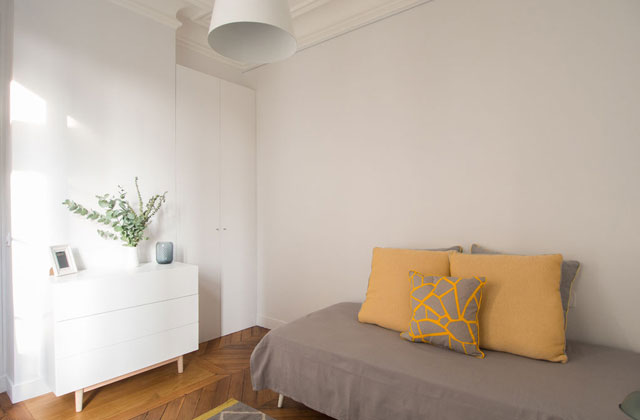 Want to rent this stylish space? Click here!

9. Change handles
Another small but impactful touch you can make to your home is to unscrew cupboard handles (putting them somewhere safe so you can put them back afterwards) and replace them with statement pieces. Think gold or chrome to add a modern touch to your kitchen, or maybe carved wooden handles in original shapes.

10. Use bookcases instead of shelves
Installing shelves in a rental property can be tricky, as they usually require you to make holes in the walls. Instead, why not come up with some creative storage solutions, like this design of bookcase that covers the entire wall. Furniture like this is not only practical, but can also be filled with art, ornaments, books… Whatever you feel like!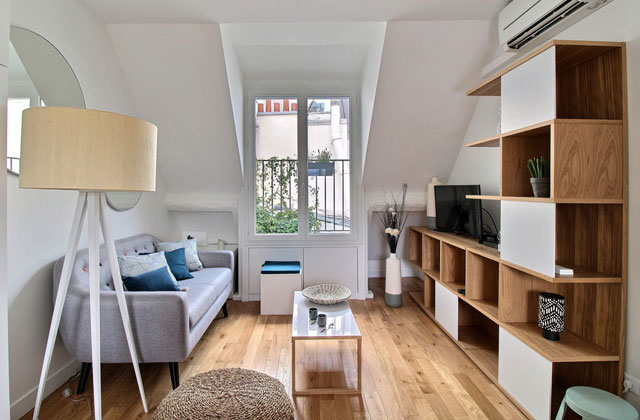 Want to rent this stylish space? Click here!

We hope that these simple tips and tricks help you to make your living space your own, however big, small, or tiny. There's no need to spend a fortune; look in Ikea and on Amazon to find some deals, and use your DIY skills to create a rental property that feels like home during your tenancy. All these suggestions are temporary, so don't forget to put everything back as it was before you move out to keep your landlord happy and protect your deposit. Happy decorating!


Are you looking for an apartment in Paris?
Lodgis offers a fabulous selection of furnished apartments for rent. We offer over 7,500 properties, from studio to family apartments with period features, spacious dining and living areas, terraces, elevator access…and just about anything!
Want to know more about what you can and can't do as a tenant in a rental property? Check out our post on tenants' rights and responsibilities.