The weekend is coming up, and perhaps you don't know what you'll be doing and your children are bored? Even if you have no children, don't spend this precious weekend staring at the ceiling!Take this opportunity to do a productive and enjoyable activity that's geared towards children and adults and will stimulate your senses.

I'd like to suggest an original activity in the heart of the 11th arrondissement (district) of Paris: at the Centre Kapla. It's such fun!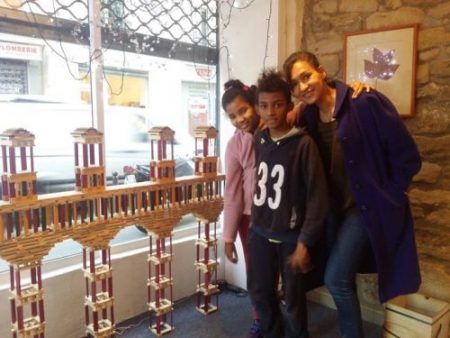 Let's start with a little history
Kaplas were created in 1986 by Tom van der Bruggen, a dutch architect, when he started building his stone castle in Aveyron. He was only 25.

He first used cubes, which turned out to be way too big for the castle model. He replaced the cubes with wooden boards. Kaplas were thus invented!

The word Kapla comes from the dutch word "kabouter plankjes" which  literally means "goblin board".

As a puzzle and a game of skill, kaplas requires logical thinking as well as creativity and fantasy.
The question remains of how to use kaplas !
This is easy!

Children, alone, in a group or with relatives, i.e you, will have to create original and challenging structures/buildings.

Then you'll need to select, arrange and organize the kaplas into forms according to your personal preference.

This will be easy because children always have a wild imagination! And you should also free up your imagination…Voila!

Build a castle, a tower, a boat, a dragon, a village or even an Ark!

All you need to do is book.

Call the Centre Kapla to book at: 01 43 56 13 38

This is an extraordinary, entertaining activity that will inspire you and your children, so what are you waiting for!

For further information, visit the Centre Kapla website: www.kaplacentre.com

Some practical information
Ateliers Kapla :
On Wednesdays and Saturdays throughout the whole school year
During school holidays: Every day
Sessions: from 10:30 a.m to 12 a.m; from 2:30 p.m to 4 p.m; from 4:30 p.m to 6 p.m
Price: 12€ (you can subscribe to 10 ateliers per month)
Age: 4 to 12 years old
Suitable for: Children and adults


The Centre Kapla can organize events and activities:

In schools
At your house for your child's birthday
Any other event (they can even travel across the country)