The city of Paris has many different "green" commitments to limiting the number of cars and reducing air pollution given the heavy traffic in Paris.

Getting around Paris by bike
Among these actions, the City of Paris encourages more and more residents to use bikes to get around the city.

You can get around Paris very easily using your own bike. Wearing a helmet is not compulsory, but it is advised.

There are lots of bike lanes (real lanes/routes dedicated to bikes that are accessible to all users – as well as some bus route where bikes are allowed-). On a bike you'll get around Paris very easily!
Here's a picture to illustrate :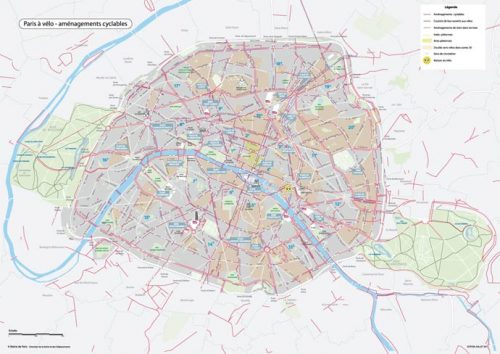 (To view a larger version of this map click here )
Many services are now available  to help you create bike itineraries such as the Google Maps app. No worries!
Bikes in Paris: Velib'!
Since July 15th, 2006, The City of Paris has also run a self-service bike sharing system.

This is how it works: you "rent" a bike for a certain duration for your trips in the capital. Of course, for a regular user, subscriptions are available. You can view all the tariffs and regulatory information at this address: http://www.velib.paris/.

Note: in some regions of Paris, the self-service bike system is managed by a different organization, and is therefore not under the name of Vélib'. You will find "Cristolib" in Créteil, "Velcom" at Plaine-Commune, or even "Velo2" in Cergy-Pontoise. The principle is exactly the same.

The system is well developed, with a large number of stations and bikes available in Paris and its area: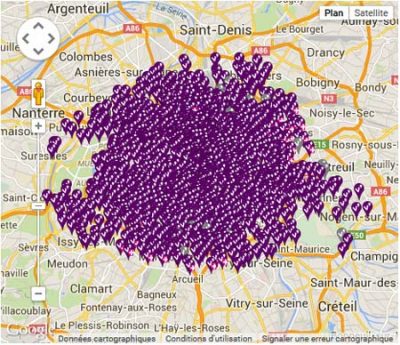 To locate your nearest Velib station, follow this link: http://www.velib.paris/Plan-stations.

So now there's no excuse! You'll see –  it's really easy and enjoyable moving around Paris by bike!