The city of Paris has lots of different environmentally friendly initiatives to limit the number of cars and reduce air pollution, because of the heavy traffic in Paris.

Getting around Paris by bike
As part of these measures, the City of Paris is encouraging more and more residents to use bikes to get around the city.

You can get around Paris very easily using your own bike. Wearing a helmet is not compulsory, but it is advised.

There are lots of bike lanes (lanes dedicated to bikes, as well as some bus route where bikes are allowed). You'll be able to get around Paris very easily by bike!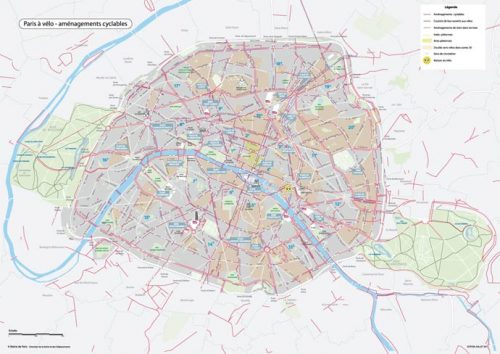 (To view a larger version of this map of Paris' bike lanes click here )
There are lots of ways to work out bike routes around Paris, such as the Google Maps app. No worries!
Bikes in Paris: Velib'!
The City of Paris has been running a self-service bike sharing system since July 15th, 2006.

This is how it works: you "rent" a bike for a certain time. There are subscriptions available for regular users. You can view all the tariffs and details here.

Note: in some regions of Paris, the self-service bike system is managed by a different organization and is therefore not called Vélib'. You will find "Cristolib" in Créteil, "Velcom" at Plaine-Commune, or even "Velo2" in Cergy-Pontoise. A Vélib' by any other name is just as good!

The system is well developed, with a large number of stations and bikes available in Paris and the surrounding area: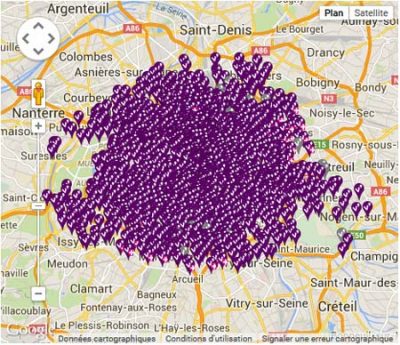 Click here to locate your nearest Velib station.

Paris 2017: The year for bikes
In 2017, the Mayor of Paris announced the construction of a bicycle path on the Avenue des Champs-Elysées, on both sides of rue de Rivoli, on the Left-Bank of the river Seine, on the Avenue de la Grande-Armée, as well as new paths in the 14th and the 16th arrondissement.

This project falls in with the environmentally friendly measures established after the COP21 conference in Paris and aims at tackle car traffic in Paris.

So now there's no excuse! Don't worry, you'll soon see that getting about Paris by bike is really easy!


Would you like to know more about eco-friendly projects in Paris? Check out our article on environmental projects in Paris!