3 days to D-day: Summer is back again! Even the bad weather won't stop you from enjoying a delicious ice cream this weekend! That said, nothing beats a good ice-cream when the weather's good.

We have chosen 3 ice-cream shops for you that are on a roll right now. Take this opportunity to treat yourself and your taste buds! You won't regret it!
1) The must-try Berthillon's ice creams
Despite being largely closed during the summer and not accepting card, the Saint-Louis Island Ice Cream Shop continues to attract thousands tourists and fans who simply swear by it. Not only for their vanilla ice cream, but also for the strawberry, salted butter caramel and gooseberry flavors…that will make your mind spin around.

Berthillon. 31, rue Saint-Louis-en-l'Île, 4th arrondissement (district). Tel : 01 43 54 31 61
Open Wednesday to Sunday from 10 a.m. to 8 p.m. Closed from mid-July-late August
2) Une Glace à Paris: the newly opened ice-cream shop
No one would have thought that Paris would be one day home to an ice-cream shop that would be named the "Meilleur Ouvrier de France" (Best Craftsman in France) and hold the World Pastry Championship Title? But it finally came true!

Emmanuel Ryon is quite a discreet character but he knew how to draw attention to himself in Paris. After working with Great Star Chefs, such as Jean-Louis Nomicos and Anne Sophie Pic, and recently at the Louis Vuitton Foundation's Restaurant, Le Frank, he finally opened his own ice-cream shop.

The ice cream shop is located in Paris' neighborhood of the Marais. It offers a real ice-cream Culinary Tour. Try the "découverte autour du chocolat glacé" and the frozen hot chocolate! You pleasure is our guarantee!
For €5.20 you can get 3 scoops:

1 Tanzania chocolate scoop 75%,
1 Smoked Inaya chocolate scoop 65%
1 Bigaradier scoop of sorbet

A true delight!

Une glace à Paris. 15 rue sainte croix de la bretonnerie, 3rd arrondissement (district). Tel : 01 49 96 98 33.
Open 7 days a week until 10 p.m Monday to Thursday and until 11 p.m Friday to Sunday.
3) An Italian ice cream shop: Il Gelato del Marchese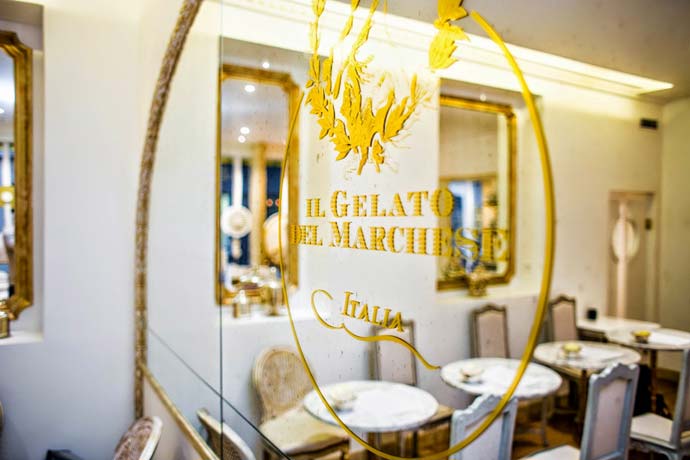 "Ice cream" practically rimes with the word Italian "Gelato", not phonetically but culturally. "Il Gelato" is, like our French Baguette, an Italian culinary staple.

At Il Gelato del Marchese you can get: zabaione crema con marsala siciliano, crema pasticcera con vaniglia Madagascar, broccante fiorentino, sésamo, e nocciole miele con mandorle and also the famous Pistacchio di Bronte siciliano.

As well as a tea house, they also offer their own specialties: salted ice cream with exotic names to match: Ricotta di pecora Sarda con tartufo bianco, Cacio e pepe, pecorino romano e pepe.

" target="_blank">Il Gelato del Marchese. 3 Rue des Quatre Vents, 6th arrondissement (district). Tel: 01 46 34 75 63.
Il Gelato del Marchese open Monday – Tuesday until 10 p.m and until 11:45 p.m Wednesday – Friday
4) The traditional Raimo
At Raimo, we discover dream-like flavours such as Rose, Vine Peach, Matcha Green Tea and many more. Since 1947, Raimo didn't stop mesmerizing and offering the ideal treat for Parisians.

Raimo. 59-61 boulevard de Reuilly – 75012 Paris
Everyday from 10am to 10.30pm
5) Ice Roll: Originality and subtlety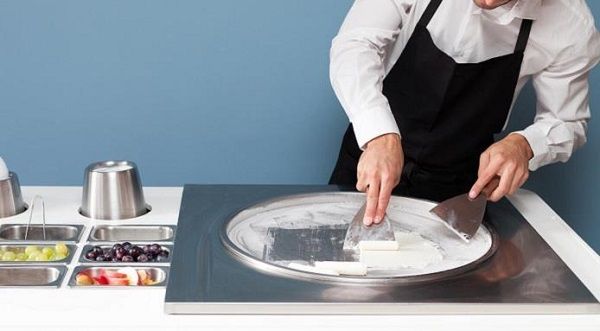 This artisanal ice-cream shop of Paris, invests its entire savoir-faire to enchant your tastebuds and your eyes! Indeed at Ice Roll you won't get any ice ball or cone but the professionals spread the ice-cream on a cold plate and roll it to serve it with fresh fruits. Tempted?

Ice Roll. 24 Place des Vosges, 75004 Paris (many addresses in Paris)
Every week-end from 1pm to 7pm.

Feeling like having an original stroll while eat delicious ice-cream? Then don't hesitate to read our post "From Chinatown to the XIVth century Castle of Vincennes"!
---