Starting a new life in another city, even another country, is never easy, particularly when you're moving as a family. Are you asking yourself which are the neighborhoods in Paris to live in as a family, what to do as a family with children and where to find a bilingual school in Paris? This article will answer all your questions!

---
How to find the ideal apartment when you're moving to Paris?
It's normal to want to find the perfect apartment to settle into in Paris, but to do this it's crucial to prioritize your criteria (size, number of rooms, distance from school or work, neighborhood or preferred metro line) to make your apartment hunt quick and efficient.
Lodgis offers a search engine to let you search for an apartment in Paris according to certain criteria.
If you can't decide between different neighborhoods or just don't know which area to choose to live in as a family, our previous article is also perfect for you!
---
Where to find a bilingual school in Paris
Finding the right school for your child (whether public or private) is a real headache for expat families, but you should know that Paris has lots of different primary schools, middle schools and high schools in each neighborhood and that you can register at the town hall of every arrondissement. You can find a list of public schools in Paris here
It's a lot more complicated for nurseries, because the waiting list to sign up your child for a public nursery can be daunting and the chances are slim. In this case a private nursery, a childminder or a nanny is definitely the best option. If you want to know more about this subject, check out our article how to find childcare in Paris.
If you're looking for a bilingual school to transition more smoothly to a country that speaks a different language or to allow francophone children to learn a new language, you can check out our articles on bilingual nurseries in Paris or our Top 10 international and bilingual schools in Paris.
---
What to do in Paris as a family
Paris has a lot more to offer than just romance, art and stunning views. There is also a large variety of places and activities for your children to discover as a family.
– Le Jardin d'Acclimatation: This 20 hectare garden combines play parks for children, a museum, a small farm and petting zoo, and many activities such as horse-riding or puppet shows. It's the ideal location for a picnic with the entire family, where you can enjoy the beauty of the green spaces and take pictures of the peacocks wandering around the Japanese garden. It is located in the Bois de Boulogne, Rue du Bois de Boulogne, 75116 Paris. A little train will take you directly into the garden from Porte Maillot.
– La Cité des Sciences: The biggest science museum in Europe, this amazing place is dedicated to promote science in an entertaining way, for children as well as for adults. Each level has a different theme and targets different age groups, with areas for children aged 2-7 and for ages 5-12. Don't miss the amazing shows at the planetarium or the 3D movies in the Geode! It is located at 30 Avenue Corentin Cariou, 75019 Paris.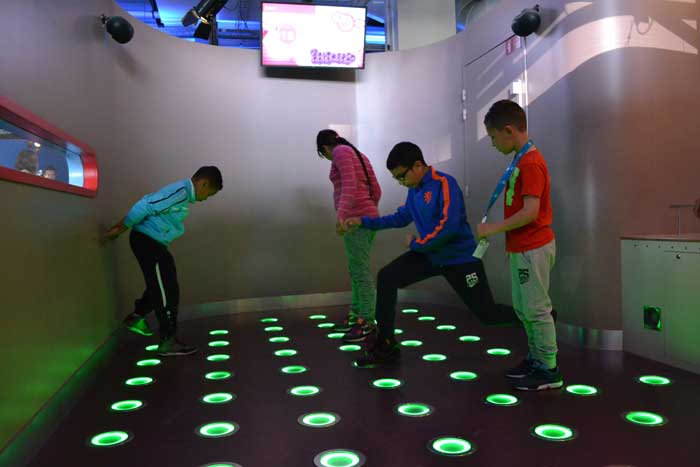 – Aquarium de Paris – Cinéaqua: A surefire way to entertain your children, this aquarium and two screen cinema is perfect for when you need to bring out the big guns. If your children don't love the shark tunnel, a glass walkway surrounded by 24 sharks, and the petting pool where your children can poke a sturgeon, the Lodgis team will eat our hats! Don't miss the shark feeding! The best part? The glass tanks reach the floor, so your little treasure can gawk at the fish without your help, meaning you can enjoy a rare few minutes of calm. Bliss. At 5 Avenue Albert de Mun, 75016 Paris (across the river from the Eiffel Tower)
– Shows for children: This can be a lovely thing to do as a family, particularly on a rainy weekend afternoon. There are lots of different shows designed for children and families around Paris. Why not check out the Théâtre du Guignol des Champs-Elysées for a puppet show every Wednesday, Saturday and Sunday at 3pm, 4pm and 5pm? Find it in the Jardin de la Nouvelle France, next to the Champs-Elysées, where the Avenue Matignon and the Avenue Gabriel meet. The Théâtre du Châtelet also has a children's concert on every Sunday for an hour, with professional musicians who explain how the different instruments work and make music fun for little children. Check out these shows at 1 Place du Châtelet, 7500. The famous English-language bookstore, Shakespeare and Company, also has a story hour every Wednesday at 15:00 for ages 2-6 at 37 rue de la Bûcherie, 75005 Paris.
Don't let the stress of moving ruin the magic of starting a new life in Paris. Trust us with your hunt for a furnished apartment in Paris so you can enjoy your new life!


Are you looking for an apartment in Paris?
Lodgis offers a fabulous selection of furnished apartments for rent. We offer over 7,500 properties, from studio to family apartments with period features, spacious dining and living areas, terraces, elevator access…and just about anything!