If you want to explore Paris during your time in the City of Light, come and discover our list of the best parks as the warm weather approaches. These are the perfect places to relax and enjoy the gorgeous weather away from the bustle of the city.

The Bois de Vincennes
The Bois de Vincennes is located in eastern Paris, in the 12th arrondissement and covers a surface area of 995 hectares, making it the largest green space in Paris!

This is a real haven of peace and a magnificent green space, perfect for hikes, riding a bike or taking a calm stroll.

It covers the Parc Floral of Paris, the Arboretum, the Ferme de Paris, the Hippodrome de Paris Vincennes and romantics won't want to miss the Temple de l'Amour. Don't hesitate to visit it at Route de la Pyramide, 75012 Paris.

The Bois de Boulogne
The Bois de Boulogne is a historical place where Parisians enjoy relaxing and doing outdoor activities.

This used to be the King of France's hunting ground, but nowadays it is considered one of the lungs of Paris. With approximately 850 hectares, here you can ride horses, bikes or rent a boat and it covers many different gardens, such as the Jardin d'acclimatation, the Jardin des Serres d'Auteuil.

It is located in western Paris in the 16th arrondissement, which is considered one of the most sophisticated and peaceful of the city. If you're looking for a furnished apartment to live in in Paris, we recommend that you take a look at our range of furnished rentals located in Paris' 16th arrondissement!

The Saint-Cloud Park: a haven of peace at the gates of Paris
The Saint-Cloud Park is located in Paris' suburbs, in the Hauts-de-Seine (92), and is the city's largest park spanning 460 hectares! It has been the site of numerous historic events and was damaged by a violent storm in 1999. But today it remains a wonderful and luxurious place to rest and enjoy yourself.

The park borders the River Seine to the east. As you walk you'll be able to see lots of sculptures and fountains/lakes. To avoid getting lost, see a map of the park below: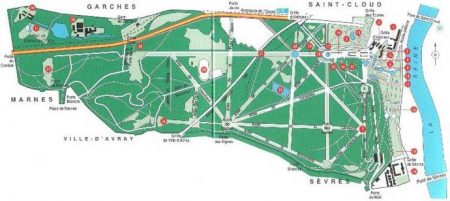 The park is easily accessible via public transport (even if you don't live nearby):

By metro: Pont de Sèvres (Metro line 9) or Boulogne Pont de Saint-Cloud (Metro line 10)
By tram: Parc de Saint-Cloud (Tram line T2) or Musée de Sèvres (Tram line T2)
By train (transiliens), with 2 stations: Gare de Sèvres – Ville d'Avray (line L) or Gare de Saint-Cloud (lines U and L)
The Georges-Valbon Park (or La Courneuve Park)
Recently named after the Seine-Saint-Denis General Council's president Georges Valbon, La Courneuve Park is a nature reserve with lakes, ponds, waterfalls, animals and beautiful flowers, which spreads over 417 hectares. It has 2 million visitors a year!

Expect to see different species of birds, red foxes and rabbits hopping through the park's bushes.

Click here to view La Courneuve Park map.
Getting there:

By RER: La Courneuve-Aubervilliers (line B)
By Bus: bus routes 249 (bus stop: Cimetière), 250 (bus stop: Parc des Sports), 252 (bus stop: Cité Floréal)

Feeling like doing something original? Then walk with us in the 12th arrondissement of Paris!