INSIDR is a connected smartphone and digital guide which every tourist passing through Paris should have!

Say goodbye to hefty roaming charges, visiting the same tourist landmarks, time wasted looking for a local SIM card and WIFI hotspots in Paris. Let us introduce you to INSIDR our favorite new partner that will make your stay in Paris a truly unique and unforgettable experience!

The device will help you with all your movements in Paris (no more mornings spent queuing for the Louvre!) with maps showing the addresses of the trendiest and most exclusive locations, and finally (its greatest benefit!) with access to a community of Parisians ready to answer all your questions, even the most farfetched. These Parisians are very friendly and open, and yes, this all comes for the price of 2 set menus in a local bistro!

INSIDR resolves the issue of connectivity for travelers in Paris: : for non-Europeans the cost of calling abroad and data roaming remains extortionate. Paris isn't really properly equipped in terms of making wifi accessible to all.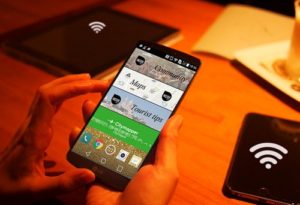 This connected smartphone provides information on the best Parisian addresses thanks to a digital guide, as well as the chance to get in touch with real Parisians to seek their advice.

INSIDR also gives you access to the best innovative and ground-breaking apps which offer a more personalized tourist experience off the beaten path.

How does it work?
You can easily order your connected smartphone online on the INSIDR website and upon your arrival in Paris it is delivered directly to your apartment rented through Lodgis or at a time and place of your choice. At the end of your stay you return the smartphone via the same method.

It's a joy for travelers who clearly don't want to be hindered by logistic hassles.The aim of INSIDR is to offer the simplest possible service.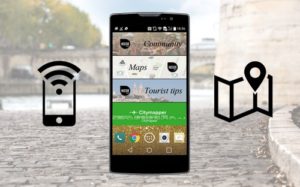 Who are the founders of INSIDR?
We are a brother & sister with deep Parisian roots through 6 generations. However, we have truly different stories. Benjamin has lived and worked in over a dozen countries (including Japan, the USA, and all over Europe). Nina has also traveled widely and lived for an extended period in Korea.

We have complementary academic and professional backgrounds, which helps a lot on a day-to-day basis in terms of our initiative. Nina went to art school and is a trained designer. Benjamin studied at Sciences-Po and worked for several years as a strategy consultant.

How did you come up with the idea?
The idea of INSIDR came from our experience as hosts. Whilst regularly putting up travelers in our apartments, we noticed that they were facing connectivity problems and were also having having trouble accessing the content that matters and that allows you to have a unique and local experience in Paris.
INSIDR TIPS !
We recommend that travelers coming for several months order INSIDR for a few days or weeks so that they can adjust to life in Paris and discover the little hidden spots that will make their stay an unforgettable experience. The local and authentic Paris is difficult to grasp for travelers. INSIDR is there to guide you through this discovery..

For example, we encourage the more adventurous travelers to play Hint Hunt (the best and first Escape game in Paris), and to go and dine at Freegan Pony: an exclusive restaurant that each night serves delicious vegetarian dishes made using the remaining unsold produce from the Rungis market. Two unforgettable experiences!

What's that cliché about Paris and the Parisians that nowadays seems outdated to us? It's that the Parisians are unpleasant, don't speak English and aren't interested in helping travelers in Paris. In reality, the Parisians are great travelers themselves and love sharing their daily lives.Our own community of Parisians is the perfect example of this.