You're probably familiar with the «traditional» Paris Metro map, with the numbers and colours of its lines…But did you know that there are other versions of the Paris Metro map?
From the burgers of Paris to a map of Parisian bars, you'll be sure to have fun…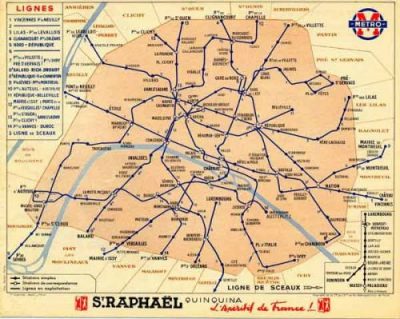 Between 1916 and today the Paris Metro map has changed dramatically. . It's become increasingly clear and easier to read between the lines of the metro.… And it runs in a revolutionary way by helping you find the nicest bar near your station or the best burger restaurant on your line.

Now you can find out without having to look up maps of the Paris Metro and its original systems…
The mapping of the «real» Paris Metro
Before we look back at former Paris Metro maps, here is some information on the traditional Parisian metro map…

There are 14 metro lines in Paris. Each metro line is represented by a number, a colour and two directions that correspond to the stations at each end of the line (with the metro lines running both ways, make sure you don't confuse your destination/direction).

To reach your destination, identify which station you're at on the map. Then find the name of the station you wish to go to. Finally, follow along with your finger to join the two stations together and take a note of the numbers and colours of the metro lines that you'll be taking.

You'll need to change where two lines intersect. You can then change from one line to another by following the signs on the platforms (make sure you get the right direction!).

On the metro map, if the line number is preceded by a «T», this means that it's a Tramway line (a kind of outdoor metro, it has three lines that run across the city of Paris). If it's a letter between A and E, this means it's an RER line (the Réseau Express Régional, it's a rapid transit system that serves Paris and its suburbs).

The thick blue line across map is the river Seine. You can also get around by boat.


The Metro Map for Burgers in Paris
An essential tool for getting around in Paris, the «traditional» Paris Metro map has been transformed for entertainment…

The blog of Fraisfrais (in partnership with Sayfat) invites you to discover Gourmet Paris, by renaming each Paris Metro station with the name of the best burger in the neighbourhood…

Also, if you're currently saying to yourself « I'd love a good burger but don't know where to find one! »,you can simply refer back to this special map of the Paris Metro and find what you're after: you'll find everything from the Parisian burgers at Big Fernand, to the classic American burger at Paris New York (PNY)!

Using the map is simple as it works just like the traditional metro map: identify which metro line you're taking, count the number of stops to your chosen restaurant, get off at the right station…and treat yourself to a meal!

Are you going out in Paris this evening but don't know where to go for a nice drink that's too far? This map of Paris bars by metro station was created by Thrillist and is just what you need! Its idea is simple: to show you the best bar within ten minutes walking-distance of the metro station you're at.

How does it work? Choose a bar, find the corresponding line and metro station, work out the number of stops between you and the bar, get off at the right station and…drink responsibly!

Did you enjoy this article? Feel free to share your thoughts and comments!