It was once a dream, but now it's becoming a reality: you're finally moving to Paris! Exciting experiences and opportunities undoubtedly lie ahead. But to get the most out of your time in Paris and have a stress-free time, you need to plan ahead – and this includes thinking about your health. To avoid spoiling your time in Paris, it is vital that you make the necessary insurance arrangements in advance.


Why choose international health insurance
Are you working in France? Maybe in Paris? The first thing to do before you arrive is check that your insurance will cover you when you're abroad. Many people don't realise this, but most domestic health insurance policies will not cover you abroad.

If you have no or little cover, even small medical problems can become very expensive because you will have to pay for your treatment out of your own pocket!

How to take out travel insurance in France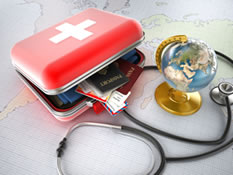 Travel insurance can cover your medical expenses, your personal liability and your repatriation, etc. However, this type of cover is usually only valid for a certain period of time, so will not be suitable for expats. Furthermore, the deductibles/excess amounts are often high, while the maximum amounts of reimbursement tend to be low.

So before you go, check out what your current policy guarantees and whether it meets your needs.  We recommend taking out a dedicated travel insurance policy. Your health should never be neglected … especially when you are abroad!

For guaranteed peace of mind, we recommend using Mondassur, a travel and expat insurance broker.  Get a free quote for your French expatriate insurance here.


If you want more information on health insurance in France, check out our guide to health insurance in Paris!