Feeling like doing some shopping, enjoying the sales or window shopping? There are plenty of great malls very close to Paris and if you would like to know some of the biggest, this is the post for you!


1. The Quatre Temps and the Cnit at La Défense
The Quatre Temps and the CNIT turned La Défense into the most visited mall in France! With approximately 258 brands, 9 floors of shops and 2 buildings, it's one of the biggest malls in the Paris suburbs.

A real leisure space, la Défense has everything to delight visitors with its shops, restaurants, mini golf, cinema and beauty parlors.

Address: 15 Tunnel de Nanterre-La Défense, 92092 Paris La Défense
Hours: every day from 10 am to 8 pm

Did you know that La Défense was one of the biggest business districts in Europe? If you would like to live in a lively neighborhood that is constantly developing, don't hesitate to check out our range of furnished rentals in the Hauts-de-Seine!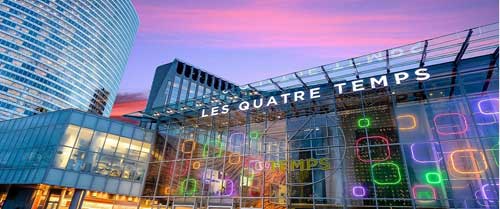 2. The Val d'Europe and the Vallée village
Does 137,000m2 of shopping and entertainment space in an enchanting backdrop sounds interesting to you? The Val d'Europe and the Vallée village have around 280 brands located in one of the biggest malls in the Paris area.

This mall is located less than 5km away from Disneyland Paris and welcomes more than 15 million visitors annually!

Address: 14 Cours du Danube, 77700 Serris
Hours: 10 am to 8 pm from Monday to Saturday and 10 am to 9 pm on Sunday

3. Belle Épine
There are 221 brands in this mall in the town of Thiais in the 94 department. With wi-fi, a cinema, bowling, restaurants, an umbrella lending service and a Carrefour supermarket to do your groceries, you have everything you could need!

This is the 5th most visited mall in the country, with around 18 millions visitors per year.

Address: Centre Commercial Belle Épine, Rue du Luxembourg, 94320 Thiais
Hours: 10 am to 9 pm from Tuesday to Friday and 10 am to 8 pm on Saturday and Monday

4. O'Parinor
This mall is one of the biggest in the Paris area with around 210 brands over 90,000m2 of space! It is located in Seine-Saint-Denis and has been renovated and restructured recently. It's a completely new mall that is ready to welcome you for your next shopping trip!

Furthermore, this mall has partnerships with charities such as Telethon, Unicef and the Red Cross.

Address: Le Haut de Galy, 93600 Aulnay-sous-Bois
Hours: everyday from 10 am to 8pm except on Sunday 11 am to 7 pm

5. Aéroville
We saved the best for last! The Aéroville, located near Paris-Charles-de-Gaulle airport, has over different 200 brands and a 4 star rating!

What's more, it's the 3rd biggest mall in France. It also has many attractions (restaurants, cinema, fitness club, etc) and provides a shuttle service connecting the airport and the hotels located nearby!

Address: 30 Rue des Buissons, 95700 Roissy-en-France
Hours: everyday from 10 am to 8 pm

If you are looking for an original gift or souvenir from Paris, don't hesitate to check out our Top 10 Paris souvenirs that you can buy in a supermarket.