The Tour Triangle project has been approved! This skyscraper will be a triangular-shaped tower and will be built in the Porte de Versailles area of Paris.
Tour Triangle project: first rejected, now approved!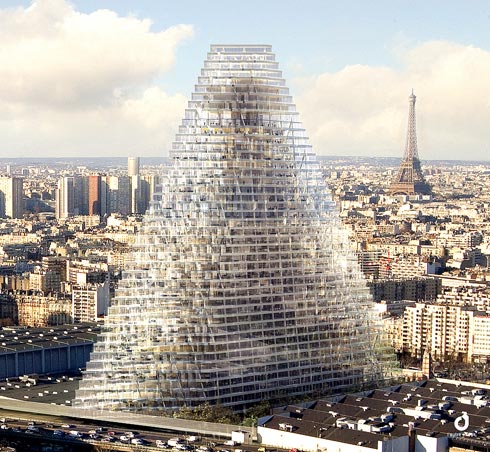 When first put forward, on 17th November 2014, the project was rejected by the Conseil de Paris.

On the June 30th 2015, surprisingly, the project was approved after extensive deliberation of the Conseil de Paris. To refresh your memory, Anne Hidalgo, the mayor of Paris, is defending its project to build a 180-meter, pyramid-shaped tower. The tower should be approximately 42 floors high, most of which will be office space.

Now that it's been approved, This Tour Triangle should be built in the 15th district of Paris by 2021.

The Tour Triangle : A new lease of life
The Tour Triangle has been approved by the city of Paris because of its four major goals:

– Fostering economical development and creating employment (directly and indirectly) through its construction from 2017 to 2021 and eventually creating approximately 5000 new jobs.
– Giving a new breath of fresh air to economic activity in the Porte de Versailles neighborhood and its surrounding neighborhoods.
– Giving the Porte de Versailles neighborhood a tourist site on a national and international scale;
– Encouraging architectural and urban innovation alongside Paris' environmentally friendly guidelines

The Tour Triangle will be open to visitors and won't only include offices but also a health center, a conference center, a view point, a panoramic restaurant and many other services and things to attract tourists!

To know more and to visit the Tour triangle, don't hesitate to go on the project's official website.

And you? For or against the Tour Triangle?
For or against the Tour Triangle?


Eager to know more about Paris ecological projects? Then don't hesitate to read our post on Paris Smart City!