Paris is certainly not the most wheelchair-friendly city in the world. Although some progress has been made in recent years with accessible buses and taxis, the old buildings without lifts, narrow, uneven pavements and steep hills in some parts of the city make getting around difficult for anyone with reduced mobility; especially those in a wheelchair. However, with some careful planning, it certainly can be done. Here is our guide to the accessible public transport options in Paris.

Metro
Line 14 is the only central Paris metro line that is fully accessible. It runs through the middle of Paris from East to West and has stops near main tourist attractions such as the Louvre and Notre Dame, as well as Chatelet where you can catch the RER to the airports. But that's it… In general, the metro is not the best form of transport to use if you have accessibility requirements.

Ticket information: tickets can be bought in most (but not all) metro stations. A single ticket is €1.90, or a book of 10 is €14.90.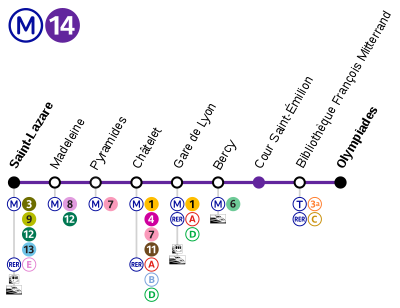 Bus
The bus, however, is fully accessible for people with reduced mobility. All public buses in Paris are fitted with a wheelchair ramp that can be lowered when the bus's doors are closed. Often, bus drivers will let the passengers off, close the doors, and then lower the ramp. The bus is probably the best, and certainly the most inexpensive way of getting around Paris in a wheelchair.

Ticket information: the same tickets work for both metros and buses. You can either buy a ticket from the driver for €2 or get one from a metro station for €1.90.

RER
The RER is Paris's high speed rail network, and runs trains from the outskirts of Paris into the centre. 63 out of 65 RER stations on lines A and B are fully accessible, which means that getting to and from Paris's airports, and making journeys to and from the Parisian suburbs is pretty easy. Usually you will need to ask a member of staff at the station for assistance, so that they can provide a wheelchair ramp from the train to the platform.

Ticket information: for RER journeys within the city limits (zone 1) you can use a regular metro ticket. If you're travelling further, for example to or from the airport, you'll need to buy a ticket for your specific destination.

Taxi
There are few accessible taxi companies available in Paris, and they are the most efficient, but also the most expensive method of travel around the city. The company G7 have a fleet of taxis with access ramps and space for a chair inside – you can order one through their app, website or by calling 01 47 39 00 91. If you're visiting Montmartre and the Sacre Coeur it's worth taking a taxi as the hills are very steep and there isn't a bus that can drop you at the top.

Tram
There is a fully accessible tram network that runs around Paris's perimeter. This is useful if you need to travel to the opposite end of Paris to where you currently are without getting caught up in the inner-city lines.

Ticket information: you can use the same ticket as for the metro and bus for the trams.

To note:
Paris's old, narrow, often bumpy streets don't exactly lend themselves to people with reduced mobility, but there are cut curbs that make it possible to travel around in a wheelchair.

Before you go, download the Citymapper app. It has a section for routes with step-free access: useful for planning the quickest accessible route.

Some, but not all, hop-on-hop-off bus tours and boat tours have wheelchair access. Check in advance to make sure.

If you're looking for an accessible apartment for your stay, we can help! Contact one of our advisors to discuss your individual needs and we're sure to be able to find somewhere that suits you.


Hopefully this guide has been useful in helping you to prepare for your trip to Paris. Although the city isn't ideal when it comes to wheelchair accessibility, it is absolutely possible to have an incredible trip regardless. For more information, visit the Paris Tourist Office website.
Are you looking for an apartment in Paris?
Lodgis offers a fabulous selection of furnished apartments for rent. We offer over 7,500 properties, from studio to family apartments with period features, spacious dining and living areas, terraces, elevator access…and just about anything!