Coming to Paris as a student or an intern and looking forward to letting your hair down in the evenings? Worried about the cost of living and surviving on a budget in the French capital? This article will show you that it's still possible to enjoy a great night out in Paris without spending a fortune!
Staying in
Yes, I know, this is meant to be an article about going out… but if you really want to save money, why not start with drinks at home, in the comfort of your furnished rental apartment?

Visit one of your local supermarkets (Monoprix, Franprix, Carrefour, G20, U), where you can pick up a decent bottle of wine for as little as €3 or a crate of delicious Belgian beer for €5-6! Try to avoid general convenience stores, called "Alimentations Générales", as they tend to be more expensive and offer less choice. Invite some friends over to your cozy rental apartment and start the evening with a sophisticated "apéro chez vous".
Bars and Restaurants
Wherever you are in Paris, you're likely to find trendy bars and bistros on virtually every street corner. What you won't necessarily find, however, is cheap prices to match. In fact, lots of Parisian restaurants lure you in with affordable menus and then charge exorbitant sums for the drinks to compensate.

Here are 3 essential tips for saving money in bars and restaurants:
1) Drink at Happy Hour when drinks are discounted at certain bars and restaurants in Paris. Download the App Happy City, which shows you the nearest Happy Hours available, the times and drinks offered.

2) Stand at the bar. If you don't make Happy Hour, certain bars and restaurants will charge you less for a drink if you're willing to stay at the bar instead of sitting down.

2) If you're planning on eating out, look up places in advance to see their menus. Restaurants, such as Bistrot Victoires, Chez Omar and Coriandre all over main courses for less than 10 euros. To find out more, see our dedicated article on The Top 10 Budget Restaurants in Paris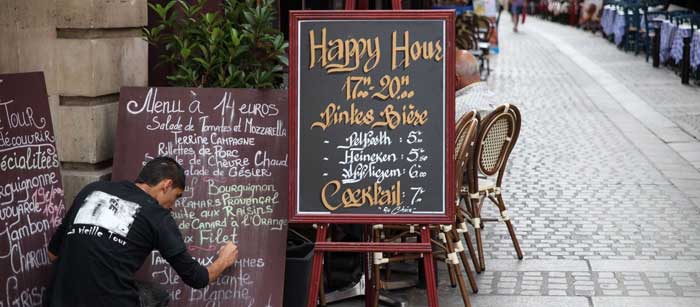 Clubbing On A Shoestring
As you probably know, many Parisian clubs charge a hefty entry fee of €10-20 just to get in! Once again, it's always best to decide where you're going in advance, and that means before the first drink! There are several ways of saving money on clubbing, so you'll have to pick the one that suits you best!

Favela Chic, for example, offers free entry from Tuesday-Thursday or €15 on Fridays and Saturdays with a free drink included. Clubs like Showcase, a swanky address under the Pont Alexandre III, offer free entry before midnight and €10 thereafter. Bear in mind that you might have to queue!

Alternatively, if you don't want to pay for entry and can cope without drinks inside, here are some of the hottest student spots in town:
Comptoir Générale.
A shabby-chic hipster venue in an African style hideout on the banks of the Canal Saint Martin.
80 quai de Jemappes, 75010
Wanderlust
A popular techno/house destination in the Cité de la Mode et du Design.
32 quai d'Austerlitz, 75013
Chez Moune
Opened in 1936 as a ladies' club, Chez Moune was a regular haunt of the iconic Edith Piaf. Now a trendy late-night club with funky DJ sets to impress.
54 Rue Jean-Baptiste Pigalle, 75009

La Flèche d'Or
The former Charonne train station is an electric setting for this dynamic electro-indie venue that looks over the old railway tracks.
102 Bis Rue Bagnolet, 75020
Nuba
In the same building as Wanderlust, La Cité de la mode et du Design, you can ascend to this rooftop club and enjoy a late-night DJ set on the stunning beach-like terrace that overlooks the water.
36 quai d'Austerlitz, 75013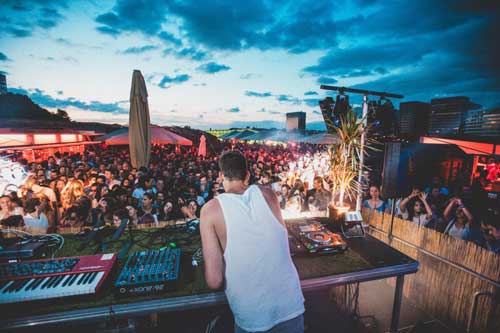 Just like your wild night out, this article must come to an end. Hopefully it will help you save a few euros going out in Paris whilst having just as much fun on the dance floor!
Bonne Soirée!

Did you enjoy this article ? Read our next post Getting Home after a night out in Paris!