If you're looking to find a cheesy burger and fries, or missing a Sunday 3-stack of pancakesfor brunch- look no further. Here are the top 10 best American restaurants in Paris.
New York à Paris
It's in the name with this one… inspired by New York but right here in the heart of Paris, this restaurant provides signature American food.. Burgers make up the majority of the menu but you can also find steak tartare, for a little French flair, accompanied of course by house chips- typical American-style
Signature dish: Cheeseburger classique et frites maison
Address: 33 Rue Guersant, 75017 Paris
Website: New York à Paris

Le Ruisseau Burger Joint
This one, despite sounding more French, stays truer to the American way. You'll be hard pressed to get something other than a burger, but the choice is grand. Not only are there five types of cheese burger you also have the chicken, fish or veggie burger plus the all American BBQ Burger.
Signature dish: BBQ Burger
Address: 22 rue Rambuteau, 75003 Paris / 65 rue du Ruisseau, 75018 Paris
Website: Le Ruisseau Burger Joint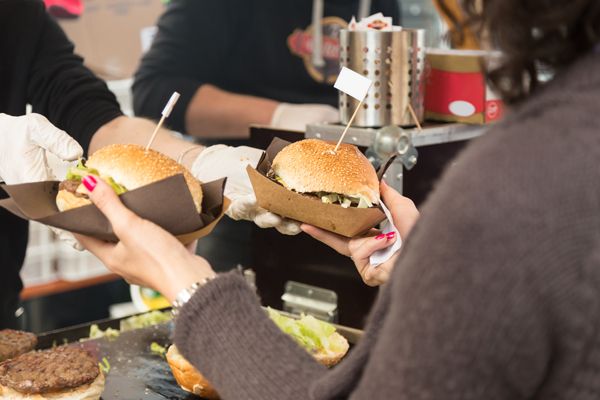 American Corner
When you're looking to pick something up and go, or enjoy a bagel as the Americans do- you've found it here. The American Corner specialises in the classic New York bagel, but funnily enough their signature dish is something equally as American but not at all bagel- Pulled Pork Hot Sandwich. With caramelised pork pulled apart with a fork, fried onions, salad and smothered in BBQ sauce it's not hard to see why it's such a fan favourite !
Signature dish: Pulled Pork Sandwich Chaud
Address: 160 rue Saint Jacques, 75005 Paris / 164 rue Montmartre, 75002 Paris
Website: American Corner

The Grilled Cheese Factory
What screams America more than a grilled cheese sandwich? Nothing. Except maybe the ones you find here at the Grilled Cheese Factory. The super cheesy sandwich triangles are cooked cheese side down to ensure melted-goodness. Their motto? Never underestimate the power of a grilled cheese. Their signature dish combines two simple and key American staples into something weird and wonderful- the Mac & Cheese Grilled Cheese Sandwich. Try it before you judge
Signature dish: Mac & Cheese Grilled Cheese Sandwich
Address: 9 rue Jacques Cœur, 75004 Paris / 46 rue d'Orsel, 75018 Paris
Website: The Grilled Cheese Factory

Blend Hamburger
Though a hamburger restaurant is the last place veggies would think of going, all the burgers here exist in a veggie version making this is a hit with everyone. Their signature dish is aptly named 'Le Signature' mature beef steak, balsamic vinegar caramelised onions, bacon, blue cheese, emmental, garlic mayo and spinach. You even have the choice between regular fries or sweet potato fries.
Signature dish: Le Signature
Address: 44 Rue d'Argout 75002 Paris / 1 Boulevard de Filles du Calvaire, 75003 Paris / 4 rue de l'Ancienne Comédie, 75006 Paris / 3 rue Yves Toudic, 75010 Paris, 15 rue de Charonne, 75011 Paris
Website: Blend Hamburger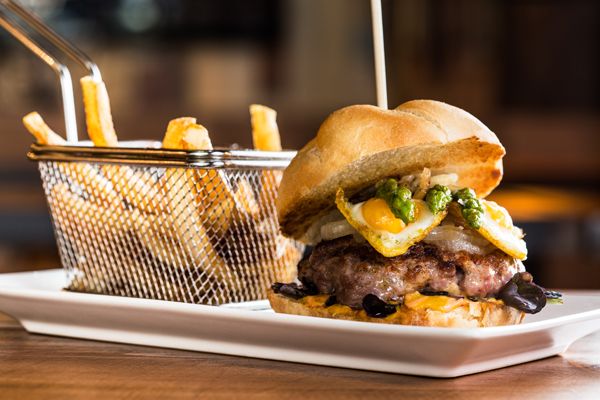 Kraft
When was the last time you watched a gritty American cop-drama and there wasn't at least one scene where they get hotdogs from a stand on the New York streets?Classic American street-food has been brought to the streets of Paris by the Kraft team. Loaded and delicious, try the Delicatessen with cheddar, pastrami, mustard, honey and relish for a true American journey.
Signature dish: Delicatessen
Address: 15 rue des Archives, 75004 Paris / 54 rue de Faubourg Poissonnière, 75010 Paris
Website: Kraft

Razowski
This restaurant produces mouth-watering plates of burgers, chips and salad- totally instagrammable ! You won't be able to get your hands around the burgers, never mind your mouth so be prepared to give in and use a knife and fork or get really, rea-alllly messy. Worth it though, Razowski produces burgers so flavoursome all fast food stops will be a thing of your past. Try out the Razowski Burger- soft bread, beef, onions, sautéed mushrooms, sliced avocado, crème fraîche and chives. It can also be made vegetarian.
Signature dish: Razowski Burger
Address: 38 place du Marché Saint-Honoré, 75001 Paris / 169 Boulevard Saint Germain, 75006 Paris
Website: Razowski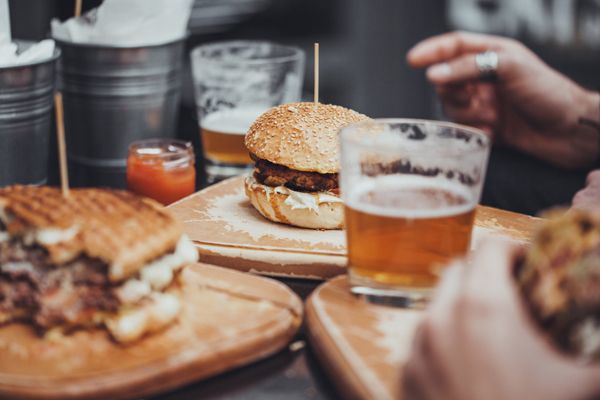 Schwartz's Deli
With a large selection of burgers on the menu it may be difficult to choose something else, but don't discount their pastrami.Hard to find true American-style in France it is worth getting while you can, and the Very Best Hot Pastrami Sandwich lives up to its name. A full meal that you'll struggle to finish, you'll leave the Deli feeling proudly and wholly American at heart. .
Signature dish: The Very Best Hot Pastrami Sandwich
Address: 16 rue des écouffes, 75004 Paris / 7 avenue d'Eylau, 75016 Paris / 22 avenue Niel, 75017 Paris
Website: Schwartz's Deli

Breakfast in America
A true American diner, this is the spot to go for a hearty brunch, full of pancake stacks, refillable coffee, sausages and eggs. The owner himself hails from Connecticut, USA, so you know the food has got to be authentic and true to the American way. No French influence here, you'll leave with a full belly and a smile on your face. Pop in for a stack of pancakes drowned in maple syrup, blueberries, banana and chocolate chips.
Signature dish: Pancakes
Address: 17 rue des Ecoles, 75005 Paris / 4 rue Malher, 75004 Paris
Website: Breakfast in America

Frenchie To Go
Okay so this one may be a little bit of a cheat… Although American by nature, it takes on a French twist and inspiration to raise expectations of what food can be. ThisFrench-American fusion appeals to the masses, and can be eaten in as well as to go. Their best seller is the Lobster Roll + Side, big enough to feed two. The blue lobster and white butter sauce sit inside a toasted brioche bun and comes with a choice of chips, fries, salad, pickles or the ever-American favourite coleslaw
Signature dish: Lobster Roll + Side
Address: 9 rue du nil, 75002 Paris
Website: Frenchie To Go

Are you looking for an apartment in Paris?
Lodgis offers a fabulous selection of furnished apartments for rent. We offer over 7,500 properties, from studio to family apartments with period features, spacious dining and living areas, terraces, elevator access…and just about anything!