Are you getting ready to come to Paris to continue your studies (university, Erasmus, preparatory classes, student exchange…)? The first step to moving to Paris is finding accommodation… But it's not that easy! Because in Paris accommodation is expensive and student housing is limited. Even if renting a furnished studio sounds like the best solution, here are some different avenues to explore for finding a place that best suits your budget and requirements!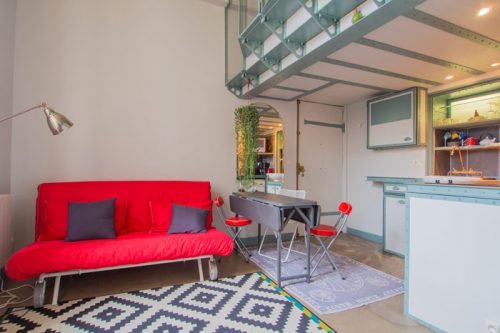 The solution: a furnished rental… on your own or with friends
Renting a furnished studio apartment
There are plenty of websites offering rentals for individuals and groups (pap.com, seloger.com…). But landlords, who are reluctant to rent their properties to students (unpaid rent and/or damage to property), turn increasingly to furnished rental specialists, such as Lodgis, to rent out their properties without having to worry.  Estate agents can be helpful for students looking for housing since they offer a larger selection of apartments and guide them throughout the rental process (property searching, paperwork).

Finding an apartment through an agency is now cheaper than ever as agency fees are capped at 12 €/m²! For example, Lodgis offers studio apartments from just 560€ per month with agency fees only amounting to 144€ (for a furnished studio of 12m²). Renting a furnished apartment in Paris is the ideal answer for students who wish to be more independent.
Sharing a large furnished apartment
Sharing an apartment is a great solution as it enables you to live in a larger furnished apartment at a lower cost in nice neighborhoods in the very heart of Paris. As a matter of fact, big apartments are not in such high demand: that's why landlords accept to rent them to students for a flatshare.

However, for a flatshare to go well, you need to find the right people to be your flatmates, people with good-manners whom you respect and can trust!

An alternative solution is Intergenerational flatshare! You share an apartment with an older person who might need your company on a daily basis (the rent is cheap if not free). Several companies offer this kind of arrangement that's not yet well-known in Paris.
Other kinds of furnished accommodation for students: cheaper but less accessible
University campus: but few are chosen
University campuses are cheaper solutions for students who want to live in Paris. Moreover, it is likely that students who have just arrived in Paris will feel more comfortable living with and getting to know other students. But this furnished accommodation, which cheaper (between 400 and 550€ per month for a room from 11 to 18m²), is not necessarily accessible to all: you have to particular criteria… there are applications and just a few are successful.

To make up for the lack of space on campus, private and high-quality student residences have started appearing: they are more expensive (almost the same rent as for a studio of 18m², between 580 and 950€ a month). The application process is far less difficult than on campus, thereby enabling all students to find a room.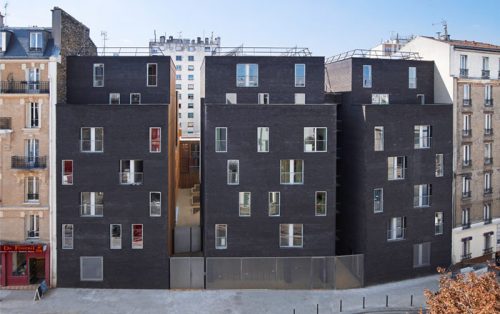 Student hostel
In recent years, student hostels have undergone a transformation. No more shared curfews and cramped, overcrowded dormitories!
There are now around 30 student hostels in Paris that offer furnished bedrooms for 1, 2 or 3 people and are great alternatives to finding accommodation in Paris at an affordable price (from 250 to 500€ per month), but they are often reserved for younger girls. This is reassuring for parents but also highlights the pros and cons of living in a community.

Now that the cat's out of the bag, it's up to you! If you think renting a furnished apartment would be the best option for you as a student in Paris, have a look at the the selection of furnished rental apartments offered by Lodgis