Paris is a festive city that's full of bars, but did you know that many of the best bars are hidden in unusual places in the capital? Lodgis is here to help you discover 5 hidden bars in Paris that have caught our attention. But ssshhh, don't tell!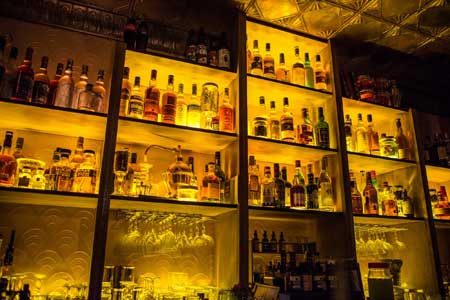 Number 5 : The Moonshiner
Within the "Da Vito" pizzeria is the Moonshiner cocktail bar. To find it you have to push open the metal door of the walk-in fridge. Once inside, you can enjoy a quiet, speakeasy atmosphere to transport you back to Prohibition. The menu offers a wide selection of cocktails and whiskey, with prices ranging from 5€ to 10€.

• Address: 5 rue Sedaine, 75011 Paris
• Opening hours: Every day from 18:00 to 02:00

Number 4 : The Mezcaleria
Hidden within the 1K Paris hotel you can find a secret bar with a South-American vibe, called the Mezcaleria. Find it by going through the kitchen door of the hotel's restaurant. The interior is an exciting blend of Mexican culture and underground cool. Mezcal has pride of place here and accompanied by guacamole and grilled grasshoppers if you're feeling adventurous!

• Address: 13 Boulevard du Temple, 75003 Paris
• Opening hours: Thursday to Saturday from 19:00 to 02:00

Number 3 : The Syndicat
Camouflaged underneath concert posters and flyers, you'll find Syndicat, a cocktail bar that recently replaced a mobile phone sign. The interior is swanky and cool, and you will find spirits produced in France (Cognac, Armagnac…) and understated hip-hop music. These stunning cocktails made with many delicious French spirits can be enjoyed from around 10€ to 13€.

• Address: 51 rue Faubourg St Denis, 75010 Paris
• Opening hours: Every day from 18:00 to 02:00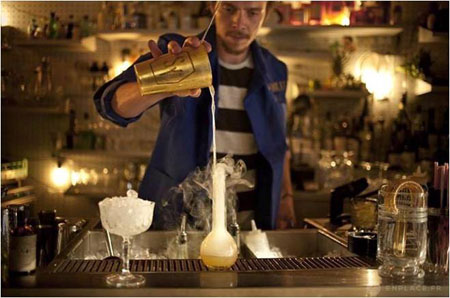 Number 2 : Baranaan Indian Cocktail
Hidden behind an obscure door in a coffee shop is the Baranaan, a unique speakeasy bar that combines Indian specialties and cocktails, with prices starting from 8.50€ and naan bread available with cheese, Nutella, honey – all with background music worthy of Bollywood films.

• Address: 7 rue du Faubourg St Martin, 75010 Paris
• Opening hours: Monday to Saturday from 18:30 to 2:00

Number 1 : Lavomatic
If you need to do some washing, why not go to Lavomatic, where you can wash your clothes whilst nonchalantly sipping on a cocktail in the basement. This bar has been open since the summer of 2015 and you will find cocktails and meals for under 10€, all with an original and truly kitsch-tastic atmosphere.

• Address: 30 rue René Boulanger, 75010 Paris
• Opening hours: Tuesday to Saturday from 18:00 to 02:00

Looking for even more originality? Then come discover the hidden Paris!